Three Rivers Stadium was new. Roberto Clemente and Willie Stargell were in the lineup. The 1971 Pittsburgh Pirates brought a World Series title back to the city and that feat will be commemorated as part of 2020 Topps Heritage High Number baseball. There are also a few new inserts to look for and, of course, the base set featuring new faces and old faces in new places.
As usual, it's the continuation of the standard Heritage set, which released last month and is designed around a tribute to the 1971 Topps set. The Heritage High Number release date is now December 30, after originally being scheduled for August 12.
2020 Topps Heritage High Base Set
The base set will consist of 200 cards (#501-700) plus a 25-card group of single prints (#701-725).
Base Card Parallels:
White Bordered – Limited to 50 (hobby boxes only)
Flip Stock – Limited to 5 – (hobby boxes only)
There will also be 50 different cards with Chrome versions. Those cards will have these parallels:
Refractor -#'d to 571
White Bordered -#'d to 71
Gold Bordered -#'d to 5 – (hobby boxes only)
Hot Box Refractor – (Hobby and Retail Value Box Exclusives_
SuperFractor -#'d 1 / 1
Base card variations will also be in the mix. They include Missing Signatures, Throwback Uniforms, Action Image (hobby only), Silver Team Names (hobby only) and what Topps calls "additional surprises."
Also look for Mini Base Card Variations, with a checklist of 50 cards, each numbered to 100.
Inserts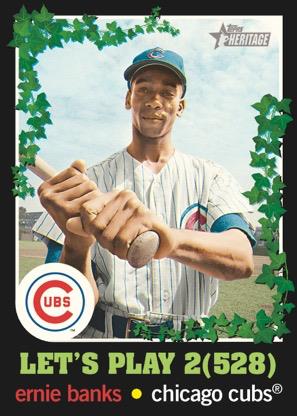 Heritage High Number will introduce some fresh inserts from the flagship product. 1971 World Series Highlights will showcase iconic moments and players from the Orioles-Pirates clash. Let's Play 2(528) honors Ernie Banks and his Cubs record of 2,528 games played.
Autographs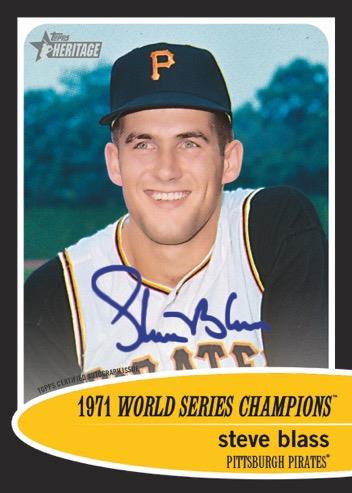 The 1971 World Series Highlights will also have autographed versions with surviving players of the championship team signing cards that will be hand-numbered to 71.
Standard Real One Autographs will be signed in blue ink with red ink versions hand-numbered to 71.
Autographed Relics
Clubhouse Collection Autograph and Dual Autograph Relics will feature on-card signatures and game-used memorabilia pieces, with all hand-numbered. Most will be numbered to 25 or less with dual versions numbered to 10. Autograph Patch Parallels will be 1/1 cards found only in hobby boxes and featuring pieces of a game-used patch.
1971 Baseball Cut Signatures will feature what Topps calls "top names" from the 1971 season. There will also be Celebrity Cut Signatures highlighting names from outside the baseball world. All will be numbered 1/1.
Relic Cards
Non-autographed Clubhouse Collection Relics will include pieces of game-used uniforms and bats. They'll have Gold parallels numbered to 99. Dual Relics will be hand-numbered to 71, Triple Relics are numbered to 25 and Quad Relics will be numbered to 10. All four versions will have 1/1 Patch parallels that are exclusive to hobby boxes.
Let's Play 2(528) Relics will be a hobby-only relic set featuring Ernie Banks game-used memorabilia pieces. All cards will be limited to 25 or less with 1/1 Gold parallels.
Box Loaders
Box loaders are back in hobby boxes with extensions of the 1971 Super and '71 Greatest Moments throwback sets that are also in the regular Heritage set. The High Number checklist for '71 Supers will have 15 players. Autograph parallels will be possible as well.
There will also be 1971 Topps Originals, which are buyback cards from the 1971 set that have been stamped in gold foil.
Boxes are available for around $175.
2020 Topps Heritage High Number Checklist