A T206 Ty Cobb "Bat Off Shoulder" card with a Uzit Tobacco back sold for $120,000 late Sunday night, as Robert Edward Auctions put the wraps on the sale of one late collector's expansive T206 set.
Graded SGC 4, the "Bat Off Shouler" is the only pose of Cobb in the T206 set that was printed with an Uzit advertising back. Only a small number of copies are known to exist.
The card was part of a 522-card set pieced together over many years by Paul "Jack" Pollard, an avid collector from Virginia, who began accumulating T206s in the 1970s. By trading with other collectors, setting up at shows and placing ads in publications along the East Coast, Pollard spent nearly forty years accumulating higher-grade cards and rare backs. He collected until his death in 2009.
REA had all of the cards authenticated and graded by SGC, which rated 300 of them as Excellent or better, including 70 at the Near Mint or better level.
Pollard's set was complete except for the ultra scarce Wagner and Doyle "NY Nat'l" cards. Several additional cards were also included in the auction.
Combined proceeds for the 540 lots in the auction tallied $764,712 with more than 15,000 bids placed. Over 39 percent of the cards sold for $500 or more.
Among the other cards sold was an SGC 8 (NM/MT) copy of the Walter Johnson "Hands At Chest" which sold for $49,200, a rare Eddie Plank (SGC 1 Poor) that brought in $39,600 and a T206 Bill O'Hara "St. Louis Variation" that sold for nearly four times the previous record for an SGC 5 when it closed at $28,200 including the buyer's premium tacked on to all final bids.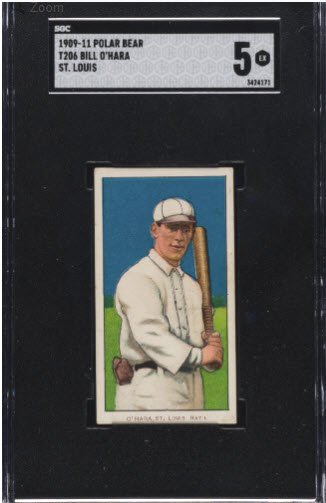 "The results of this auction were incredible, and it was a superb tribute to Paul Pollard to be able to present his set in this way and watch as collectors appreciated his eye for cards," said Brian Dwyer, REA President.
Among the other cards in the collection that were sold Sunday:
Complete results can be found here.