Sports Collectors
Sports Law Attorney Sifts Through Fanatics' Blockbuster Licensing Deals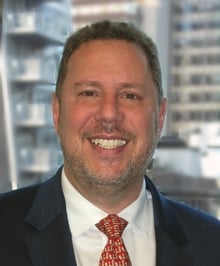 Now that the dust has settled somewhat after Fanatics' apparent licensing deals with pro sports leagues and their players' unions, Topps and Panini America find themselves at a crossroads.
The MLBPA deal begins in 2023, while MLB's current agreement with Topps runs through 2025. The NBA and NFL unions' deals with Panini run through 2025 and 2026, respectively.
Ed Schauder has more than 30 years of experience handling law and finance issues.
Topps is particularly facing uncertainty, as its 70-year arrangement with baseball will be ending.
Ed Schauder, who heads the sports law practice at Phillips Nizer LLP in New York, concedes that Topps suffered a major setback, but he also sees possibilities for the venerable company.
"Topps did get caught off-guard. Fanatics struck.  They did land a body blow," said Schauder, who has more than 30 years of experience handling law and finance issues. "It happened because it was the right time to strike.
"Topps lost a license," Schauder, who has been the product licensing agent for the estates of Hall of Famers Josh Gibson and Yogi Berra, among others. "Now, they have to figure out opportunities." 
Topps has faced challenges before. It had a protracted battle for control of the baseball card market with Bowman during the 1950s before prevailing and absorbing its rival in 1956. In 1964, Topps lost the NFL market to the Philadelphia Gum Co. but regained the license in 1968, just in time for the NFL-AFL merger two years later. In 1981, Donruss and Fleer muscled their way into the baseball card picture. In 2009, Panini snatched the NBA away from Topps and Upper Deck.
"Topps is an iconic brand," Schauder said. "Through the years, there were many other vultures out there."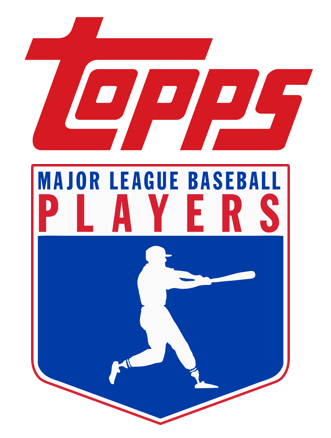 Topps was the MLBPA's most valuable license. The card company paid the MLBPA $20.4 million in 2020, according to the union's annual report with the U.S. Department of Labor.
Times have changed since Topps renewed its license with MLB in 2018.
Fanatics, headquartered in Jacksonville, Florida, has marketing savvy, capital and experience on its side. Fanatics' founder and executive chairman, Michael Rubin, is the co-owner of the NBA's Philadelphia 76ers and the NHL's New Jersey Devils.
Fanatics is also a partner with practically every major North American pro sports league for merchandising sales. When your team wins the World Series, Super Bowl or any major championship, Fanatics blasts emails within seconds, advising consumers about buying gear to celebrate their favorite team's great victory. It's great marketing.
According to The Wall Street Journal, Fanatics is even making noises about entering ticketing and online betting.
Michael Rubin
The newspaper reported that Fanatics is currently valued at $18 billion following a new funding round. That is three times its valuation from 2020. Rubin most likely will form the new company in charge of sports cards, according to The Wall Street Journal.
"Michael Rubin very quietly has become the sharpest guy in sports," said Schauder, 59, a longtime collector who was also the general counsel and executive vice president of licensing at Steiner Sports before joining Phillips Nizer.
Fanatics is in a "conquer-the-world mode," Schauder said, tossing in an analogy from the 1972 movie, The Godfather.
"Their motto is 'Officially licensed everything,'" he said. "History will repeat itself and Fanatics will go after more things. Nothing is off-limits with this company. It's a conquer and eliminate your enemies mentality. It's nothing personal. It's just business."
And in the deal with MLB and the MLBPA, Fanatics left the gun and took the cannoli. The card licenses are a sweet dessert, and according to reports by Sportico and Action Network, Fanatics is expected to launch a trading card subsidiary of its own, led by Josh Luber, who left the company he founded, StockX, in July.
On Monday, Schauder noted that what Fanatics is doing "is like a roll-up acquisition strategy."
"Rather than acquiring the assets of any particular company, Fanatics is attacking the soul of what drives such companies by aggregating and acquiring all of the licenses of the major U.S. sports leagues and player associations," Schauder said. "It's a new formula that's never really been seen before, whereby in addition to royalties, they are providing the leagues and players associations with a piece of the action."
Before the blockbuster announcement by Fanatics, Topps was in the process of going public through a combination with Mudrick Capital Acquisition Corp. II. On the heels of Topps reporting that sales had increased by 78% during the second quarter of 2021, things were looking up. The combined entity was worth $1.16 billion, according to The Wall Street Journal.
Then the rug was pulled out from under Topps, with one company executive claiming they had no idea MLB and its union were close to a deal with Fanatics.
"Not only were we unaware that Major League Baseball was negotiating with anybody other than Topps regarding our rights beyond 2025, but we were abruptly informed yesterday at 2:00 p.m. ET. … that a deal was completed, finalized and exclusive with Fanatics," Topps executive Andy Redman said.
Schauder said he was not surprised by the hush-hush nature of the deal.
"You usually will negotiate those kinds of deals in secret," Schauder said. "(But) nobody could match the money Fanatics threw at them."
So where does Topps go from here? Schauder believes there are several options. Certainly, Fanatics can offer to buy a piece of Topps (or all of it) and come up with new ideas, or simply set out to do their own version of cards. Topps, meanwhile, can delve into its rich catalog of former players and designs.
Nobody is speaking right now.
"There's an excellent chance (of a mutual deal). It's not dead," Schauder said. "It is not uncommon to ruffle feathers and then come back for the kill.
"(Fanatics) might think, 'Look, we stole the pie, but let's work together,' and Topps might decide, 'Something is better than nothing.'"
But we're dealing with billionaires here. Disney's Michael Eisner, who has guided Topps since 2007, was feeling good as his investment was paying big dividends.  Having lost out at the last minute on a potentially lucrative deal to take the company public, he might not want to play ball with Rubin and Fanatics.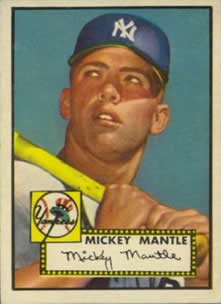 If Topps is kept permanently out of the loop with current major leaguers, Schauder believes the company's back catalog and iconic designs could still offer collectors a viable option.
Topps could even partner with someone else.
"Topps could take their intellectual property," Schauder said. "The design is theirs."
Schauder has always considered himself a Topps guy from the time he began collecting as an 8-year-old in the Sheepshead Bay area of Brooklyn, New York. He recalls getting money from his mother — a Holocaust survivor from Czechoslovakia who did not like to part with cash for frivolous things — to buy wax packs at the local Waldbaum's supermarkets.
"There's your favorite player in bright colors," Schauder said. "So I became a Topps collector early on."
Schauder suggests the extended time before Fanatics takes over the licensing might seem awkward, but it makes sense from a business perspective. Once their licensing deal expires, Topps will be reduced to airbrushing team logos from its photographs, as Panini does now with its baseball products.
"It gives each company time to ramp up. Topps could do retired players or college players," Schauder said. "They'll airbrush out logos and can use retired players up the wazoo."
Topps can even expand into more entertainment card sets, something it has done well with in the past. Older collectors will recall Topps' sets from television shows like "Davy Crockett," "Zorro," "Batman" and "Star Wars," or even the extensive card sets devoted to musical groups — the 1964 Beatles sets come to mind.
"Topps can still do some things," Schauder said.
They could do a "Terminator" 40th-anniversary flashback series in 2024 featuring Arnold Schwarzenegger, for example — "I'll be back" could have a double meaning for Topps.
There are even baseball ideas out there. Schauder suggested a "Field of Dreams" set, or (helpfully, from his perspective) a Yogi Berra retrospective set.
"They're going to have to go back and find interesting projects," he said.
As far as grading cards and the secondary and tertiary markets, Schauder said he could see Fanatics trying to open another revenue stream, either by working out a deal with an established grading company or by starting their own. Graders can be hired if the money is right, and Fanatics will be looking at a powerful source of revenue once its exclusive license kicks in.
"I don't see MLB trying to get a piece of the grading," Schauder said. "Fanatics is already getting into the market. They'll make money but I don't see MLB getting (directly) involved."
What Schauder is hoping for is a sports card market that gave him joy as a kid. As an adult, he has had his share of sports thrills. A peek at his social media page shows Schauder posing with stars like Berra, Joe Namath, Tug McGraw, Tom Seaver, Gary Carter, Keith Hernandez, Pete Rose, Monte Irvin, Buck Leonard, Reggie Jackson, Wade Boggs and others.
But as an attorney who deals in sports, Schauder knows where to draw the line. After all, sports is money.
"I have three rules I abide by," he said. "First, never ask for an autograph unless it's on a contract. Second, never let anyone leverage a relationship you have with an athlete. And third, if you do ask for an athlete's autograph for a photo, make sure it's one where it is one with you and me in the picture."
Schauder got to bat against his favorite baseball player, Seaver, during a fantasy camp in the 1990s and caught pitches from Jerry Koosman and McGraw.
"My life has been an actual fantasy camp," he said.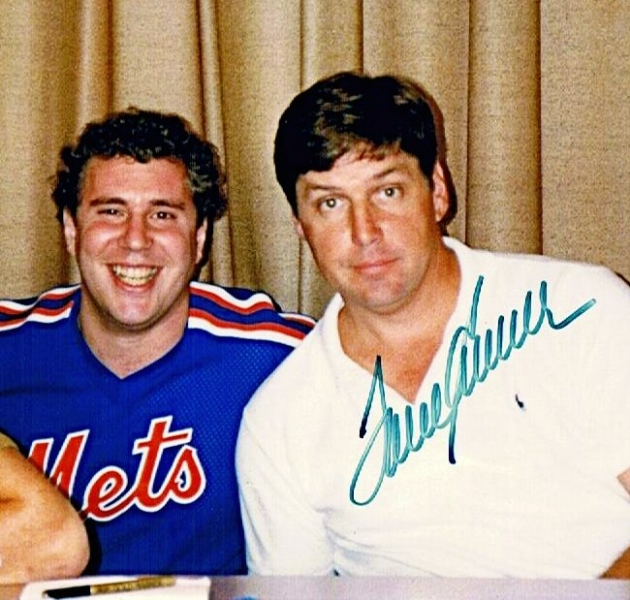 Ed Schauder's favorite player as a youth was Tom Seaver.
Schauder also became good friends with Seaver through the years.
"He drilled me four times in the batting cage at Shea Stadium in 1994," Schauder said. "He said to me years later, 'Do you know why I did that? Because I love you.'
"All of a sudden, I was a kid again."
Schauder is a businessman, but the kid in him wants to see card collecting to return to what it was like when he was growing up.
"There was nothing like going to a card show and haggling over three dollars," he said. "These kids — these millennials — don't know what they're missing."