Super Bowl
Super Bowl LV: Seven predictions you can trust in Chiefs-Buccaneers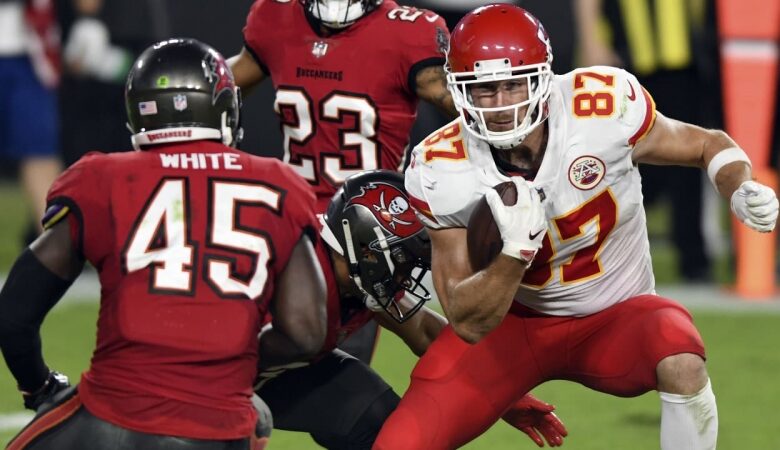 It's Super Bowl week! We made it!!
We're just days away from the 269th — and final — game of the 2020 NFL season, Kansas City Chiefs vs. Tampa Bay Buccaneers for the Lombardi Trophy. It's pretty remarkable how we got here — as chronicled in a splendid longform piece by my colleague, Judy Battista — but now this historic, unique football campaign is coming to a close. So, what can we expect in the final 60 minutes of action? Well, I have a few premonitions, playing off the prompts provided by NFL Pick 'Em Party.
What is NFL Pick 'Em Party? It's a free-to-play game that challenges you to answer prediction-based questions on the players and teams involved in each playoff game. You can play this weekend for a chance to travel like a VIP with a friend to Super Bowl LVI in Los Angeles. Get on board, people! I'm playing — and below, I've provided the seven predictions I'm most confident in among the 15 questions in Sunday's challenge. Tweet me @CFrelund with your top picks.
1) Tom Brady will hit two of these three benchmarks: 28 completions, 315 passing yards, 2 total TDs.
Brady hit two of those three benchmarks in the Buccaneers' Week 12 matchup with the Chiefs and was just one completion shy of hitting all three. Brady has thrown multiple touchdown passes in 10 straight games, so we can check that box to start. Then, we just need one of the other two to happen. And in a game with shootout potential, I'm backing Brady to deliver through the air.
2) The Chiefs will not win by more than 4 points.
Patrick Mahomes and Co. won their first two playoff games by five and 14 points, respectively, but each of their final seven regular-season wins came by six or fewer points. And even though Kansas City jumped out to an early 17-0 lead against the Bucs in Week 12, that game was decided by just three points (27-24). The Bucs have won seven straight since that game, so I expect them to be competitive in this one until the end. My model has the Chiefs winning, but in just 52.2 percent of simulations.
3) The first touchdown of the game will be scored by a player with a jersey number less than 15.
I'll gladly take Tyreek Hill, Demarcus Robinson, Byron Pringle, Sammy Watkins, Scotty Miller, Mike Evans, Chris Godwin and Tom Brady — in case he gets a chance at his patented QB sneak — in this one. I expect this game to be pass-heavy, so I'm throwing my confidence behind three of the top four receiving options in the game (all but Travis Kelce).
4) Travis Kelce will have fewer than 117 receiving yards.
Don't get me wrong: I love Kelce. And I know I'm now going against him on two straight predictions, but 117 is a lot of yards. Yes, Kelce had 118 against the Bills on Championship Sunday, but he only reached that mark in four other games during the season. That leaves 12 games where he came up short, including Week 12 against Tampa when he had 82. He may get it, but the odds are not in his favor.
5) The game's first play from scrimmage will gain at least 5 yards.
I think both teams are going to try and start fast, likely with a pass to open the game. The Chiefs want to replicate their quick start from Week 12, while the Bucs will want to avoid falling into a deep hole again at all costs. Plus, both offenses averaged more than 5 yards per play on first down this season (Chiefs 5.9, Bucs 5.6).
6) Tyreek Hill will not have the longest play from scrimmage in the game.
OK, so hear me out. I know Hill has three receptions of 50-plus yards this season, including one against the Bucs back in Week 12, but I think those shot plays will be hard to come by on Sunday. Seeing how Todd Bowles watched Hill torch his unit to the tune of 269 yards and three touchdowns in November, I expect the Bucs defensive coordinator to shift from the single-high-safety approach he used back then to having a safety rolled over the top of "Cheetah" all game. That should leave the door open for a big Mecole Hardman play. The Bucs also have a lot of capable deep threats, such asMike Evans and Chris Godwin, both of whom have a 50-plus-yarders this season, as well as guys like Antonio Brown and Scotty Miller.
7) Mike Evans will have a reception of 10-plus yards before Chris Godwin.
Evans had 51 receptions of 10-plus yards this season, while Godwin had 41. I also give Evans the edge here because the Chiefs don't have a true shutdown corner who can travel with Evans every play. I think Tom Brady will look to work his No. 1 WR into the game early on Sunday.
Follow Cynthia Frelund on Twitter.