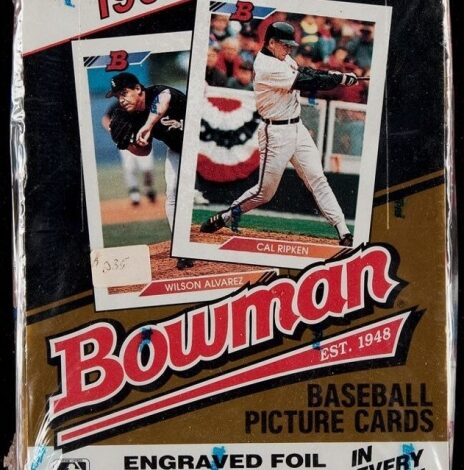 After a 34-year absence, the Bowman Baseball brand made its way back to the hobby late in the summer of 1989. Even though the return offering produced a rookie card of Ken Griffey Jr, among others, it fell flat in many ways. The oversized cards may have been an attempt to conjure up images of the original Bowman cards of the 1950s, but wound up being considered more of an annoyance than anything.
In 1990, Topps went got back to a standard size card with a very basic design and a few nice RCs including the White Sox slugger and future Hall of Famer Frank Thomas. In 1991 the product grew up a bit but showed that not much had changed since Bowman's return to baseball just a few short years prior.
That all changed in 1992 as Topps released one of the most iconic sets not only of the modern era but arguably of all time. 1992 Bowman became a big hit from the start.
With a higher quality UV glossy card stock, a brighter, whiter border and more colorful and crisp imagery, Bowman hit one out of the park. The cards also offered high quality color images on the front and backs the first time for a Bowman baseball product.
The backs of the cards broke down a player's performance against other teams.
Not only was it leveling up in quality, the rookie class was a driving force in the product's success. Simply said, Bowman had done everything they could to become a premium baseball card product in 1992.
1992 Bowman Baseball Rookie Cards
At the top of the 150-plus players in the '92 Bowman rookie crop you will find New York Yankees reliever Mariano Rivera. The Baseball Hall of Fame's first unanimous selection and quite possibly the greatest closer in the history of the sport, coupled with the fact that he spent his entire career in Yankees pinstripes, puts his card firmly at the top of the heap in this particular set. The one odd, but in hindsight, maybe one of the more endearing features was that the first cards of Rivera and others show them in street clothes.
Another Hall of Fame reliever's only 1992 rookie card is that of San Diego Padres standout Trevor Hoffman. While not the same level of star power as "The Sandman" Hoffman had an incredible career in his own right, retiring with the most career saves in the history of the game. Not too shabby either.
You can also find T in this set. For years, the Piazza rookie card was the standard bearer for the set. Although Piazza does have a more valuable rookie card in 1992 Fleer Update, this card is still wildly popular and memorable for many reasons.
Aside from the rookie A-Listers, don't sleep on the next tier of rookie cards including one of the greatest pure hitters of his generation, longtime Boston Red Sox slugger Manny Ramirez, Toronto Blue Jays left-handed powerhouse Carlos Delgado, Anaheim Angels Angels all around star Garrett Anderson, the Angels all time great reliever Troy Percival and a solid long time pro in Cliff Floyd.
Second Year Stars
Aside from the outstanding rookie crop there were just as many notable second year players led by Hall of Famer and Atlanta Braves slugger Chipper Jones and one of the greatest pitchers of his era, none other than multiple time Cy Young Award winner and World Series champion Pedro Martinez, also makes his Bowman debut. While they may have made their cardboard debuts in '91, the huge population numbers there make their first Bowman cards more desirable to many.
Oh, Those Photos
One of the biggest takeaways and long-term, lasting impressions of this great set is the quality of images and interesting fashion choices found on many of the prospects cards. An entire piece could be penned focusing on the wardrobe choices alone. The aforementioned Mariano Rivera is chilling, leaning up against a pillar in a collared shirt and light khakis on his RC. I'm almost positive Derek Lowe's card in the set features an image from his senior picture photo shoot. I am positive that Ryan Long's card is his senior picture as he's posing with his hand on chin with sunglasses on in front of the same backdrop where I took my fifth grade picture. After giving it more thought I'm convinced that a number of the prospects just turned in senior class pictures to be used by Bowman for their cardboard debuts. Check out Nigel Wilson and Paul Byrd's rookie cards. One of my personal favorites is Cliff Floyd paying homage to Michael Jordan's Jumpman image by dunking a baseball through… a basketball hoop. All joking and 20/20 hindsight aside, the images are a perfect representation of that era and time frame in fashion and sports card history.
Configuration(s)
There are 705 cards (45 foil stamped cards) in the complete 1992 Bowman Baseball set. It's not quite to flagship Topps 792 card level but it's still quite large in its own right. Its a MLB roster heavy showing, offering very little in the way of multiple cards of the same player. You will get darn near everybody that sniffed the Majors (and some that didn't) that season.
Released in August of 1992, Bowman could be found in 15 card, 36 pack hobby boxes, 23 card, 36 pack hobby jumbo boxes and 23 card, 18 pack boxes of retail jumbo. They could also be found in 80 card cartons with an MSRP of $9.99 at the time. To add even more to the revolutionary aspect of this set the retail jumbo cartons were distributed exclusively to retail outlets and are by some considered to be an early form of a blaster box.
Puttin' on the Foil
Not only did Bowman up the ante on the overall design, they definitely added some shimmer and shine with more gold foil bordered subset cards that really popped and stood out, especially in that era. The gold foil cards fall one per hobby pack and two per jumbo pack. Eighteen cards are considered short prints. The checklist of 45 gold cards featured past and present members of the U.S. National Baseball team along with minor league Player of the Year Award winners.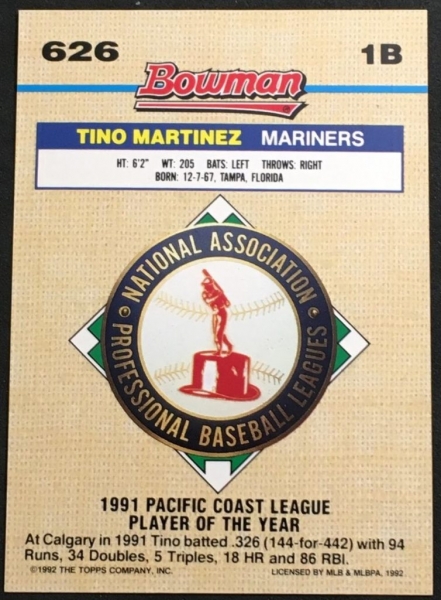 Although 1992 Bowman baseball was not rare by any stretch of the imagination, it actually was far more scarce than many of its contemporaries in the junk wax era. With the legendary rookie class, the complete and total overhaul and upgrade of the product and it's perceived scarcity at the time, the 1992 Bowman baseball set stands as a shining example of a quality product in an wildly overproduced era.