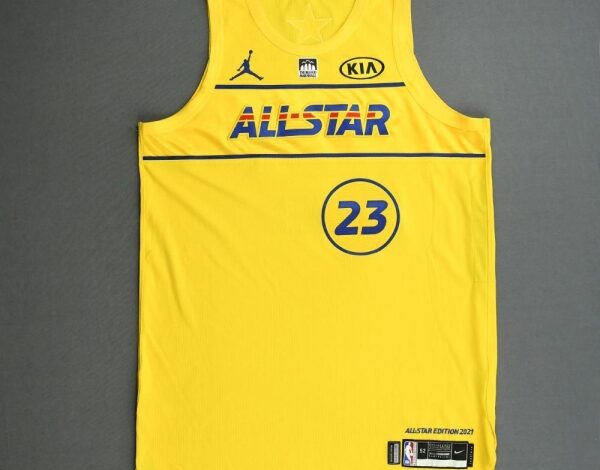 Not all of the players were super excited for the game in light of the circumstances, but the NBA's pandemic-impacted season did include an All-Star Game and now the jerseys from the March 7 contest in Atlanta are on the auction block.
Two dozen gamers worn by the league's biggest stars in the first half of Team LeBron's 170-150 win over Team Durant are up for bids. Among them: gold shirts donned by James, Steph Curry, game MVP Giannis Antetokounmpo, Luka Doncic and Damian Lillard.
All-Star debut jerseys from Zion Williamson and Zach Lavine are part of the group of Blue Team Durant jerseys that also includes James Harden, Kawhi Leonard, Jayson Tatum and Donovan Mitchell.
Some of the 24 jerseys were worn by all-stars who also participated in the league's 3-Point Contest and Skills Challenge.
Each jersey is specially tagged and registered into the NBA and MeiGray Game-Worn Jersey Authentication Program.
Bidding on the James and Curry jerseys has pushed past $20,000 in early action with the Antetokounmpo shirt now at over $15,000.
The 2020 All-Star jersey worn by James set a record for a modern era game-worn jersey of any kind when it sold for $630,000 last year. In 2019, his All-Star jersey went for $88,907. Prices for most other game-worn All-Star jerseys typically fall in the $15,000-$100,000 range.
Bidding will close on April 6 at NBA Auctions.