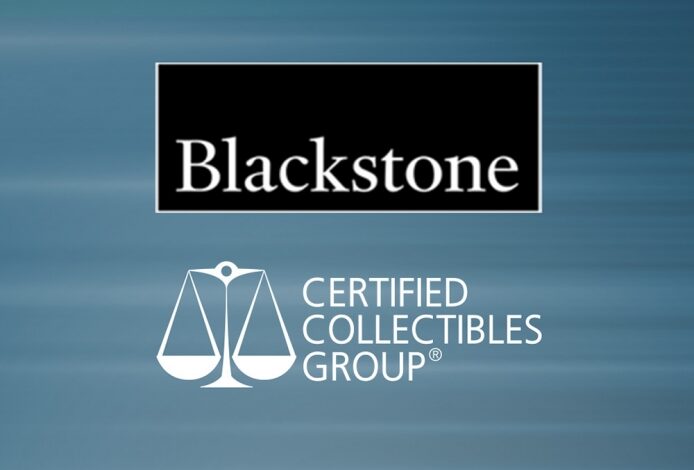 The ongoing push into collectibles from investment companies continued in earnest on Thursday. Not long after Goldin Auctions was acquired by Collectors Holdings, the parent group of the newest trading card grader was acquired in a nine-figure deal.
B
lackstone's Tactical Opportunities business is acquiring a majority stake in Certified Collectibles Group, which operates Certified Sports Guaranty (CSG), a division that opened earlier this year. The transaction values CCG at more than $500 million.
Additional investors include Jay Z's Roc Nation; Michael Rubin, founder and executive chairman of Fanatics; NBA player Andre Iguodala; Daryl Morey, President of Basketball Operations for the Philadelphia 76ers; SC Holdings, a growth equity platform; Mastry, founded by Rudy Cline-Thomas and Main Street Advisors, a leading investment advisory firm to prominent athletes, recording artists, and others across entertainment and business.
Mark Salzberg, CCG's founder, and Steven R. Eichenbaum, the company's CEO, will retain a significant minority stake.
Founded in 1987, CCG offers authentication, grading and conservation services for everything from comic books to coins and trading cards.
Blackstone, one of the world's top investment firms with nearly $650 billion in assets, says it will be looking to grow the company by enabling investments in new graders and other employees, expanding its current facilities and geographic reach, acquiring new technologies and developing its digital presence.
"As thematic investors, we look for exceptional entrepreneurial teams succeeding in growing markets, and CCG is a great example, stated C. C. Melvin Ike, Principal at Blackstone. "We have been closely following the rise of the global physical and digital collectibles industry for several years and we were drawn to CCG because of their leadership role in the categories that they serve, and Blackstone's ability to grow the platform through both organic and inorganic initiatives. We look forward to working together to help the company continue and even accelerate its impressive growth trajectory."
CCG's leadership team will remain in place.
"When I established CCG, I had a vision that we would transform collectibles into an asset class that is trusted by collectors, dealers and investors around the world," Salzberg stated. "It has been incredible to be a part of this journey as we achieved and then exceeded these goals."
"We are thrilled to be partnering with Blackstone during this key point in the industry as the collectibles market continues to accelerate and attract new collectors and investors," added Eichenbaum. "From the moment we met the Blackstone team, we could tell that we shared the same vision for the future of our company and the global collectibles industry."