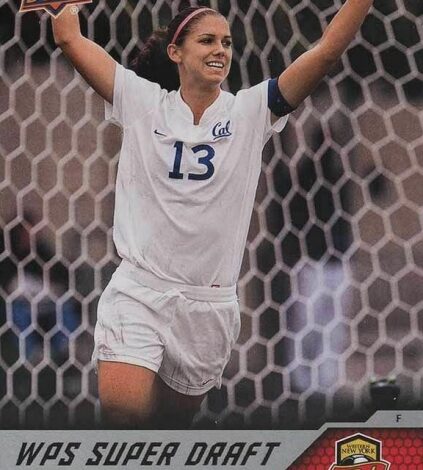 If you sell cards and you're ignoring the market for female athletes, you might be making a mistake. New data from eBay reveals some sizeable sales numbers for women's sports cards.
WNBA, women's soccer and tennis are just three sports where interest has been on the rise over the last couple of years.
eBay says sales of WNBA trading cards are up more than 1,100% in two years while women's soccer cards are up 172%. Some of that is likely due to greater availability of products but it's also clear more people are buying cards that feature prominent women.
The biggest increases on eBay's trading cards platform were for soccer star Alex Morgan. Her card sales grew by 11,350% in two years. Cards of tennis great Serena Williams were up 11,064%.
Sales of several cards have touched the five-figure mark.
Top 5 Most Expensive Female Trading Cards on eBay
Immaculate Collection Soccer United States Alex Morgan patch auto 1/1 lot – $16,000
2003 Netpro Elite 2000 SERENA WILLIAMS #2 & FEDERER #3 RC PSA 10 Lot – $14,499
2003 Netpro Tennis #1 Serena Williams RC Rookie PSA 10 – $14,383
2003 NETPRO GLOSSY PREVIEW #P2 SERENA WILLIAMS ROOKIE PSA 10 405/500 POP 11 – $13,799
2018 Sports Illustrated For Kids Naomi Osaka ROOKIE #779 PSA 9 MINT – $13,400
eBay says searches for Osaka's cards grew from 517% from January to February of this year, as she played her way to the 2021 Australian Open championship. Searches for Williams cards grew 280% during the same period.
Top 10 Most popular Female Athlete Trading Cards:
Serena Williams
Alex Morgan
Ronda Rousey
Sabrina Ionescu
Sue Bird
Diana Taurasi
Mia Hamm
Breanna Stewart
Carli Lloyd
Megan Rapinoe
Sales increase by athlete since 2019:
Alex Morgan – 11,350%
Serena Williams – 11,064%
Annika Sorenstam – 8,950%
Lisa Leslie – 2,800%
Rona Rousey – 2,357%
Sheryl Swoopes – 1,925%
Venus Williams – 385%
Hope Solo – 288%
Lorena Ochoa – 133%
Chris Evert – 74%