Sports Collectors
Hottest Shohei Ohtani Baseball Cards on eBay as Angels Sensation Soars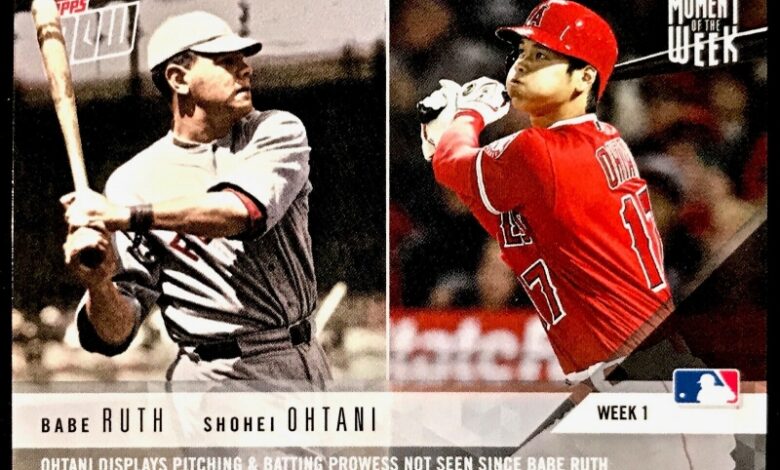 Could he not just be as good as advertised… but maybe better?
The fascinating arrival and performance of a big league unicorn from Japan who has led baseball historians to the record books has spearheaded a stampede of collectors and dealers searching for Shohei Ohtani baseball cards.
His dual abilities as a pitcher and hitter are simply something no living fan of Major League baseball has witnessed. Ohtani is giving us a chance to experience what those who watched Babe Ruth were seeing more than 100 years ago.
In fact, when he made his start as a pitcher on April 26 of this year, Ohtani became first person to start as a MLB home run leader since Ruth (with 19 HR on June 13, 1921).
"He's a very dynamic hitter," said Detroit Tigers' manager A.J. Hinch after Ohtani belted two homers against his pitchers. "It's must-see-TV type. You can feel the intensity in the crowd. He's doing his thing. And he's a very talented player. And he's doing remarkable things on both sides of the ball at the highest level in the world."
Dual Threat on Display
The list of "firsts" and eye-popping stats from Ohtani's arrival is endless. A few highlights:
…and that's just a sampling.
Ohtani Rookie Cards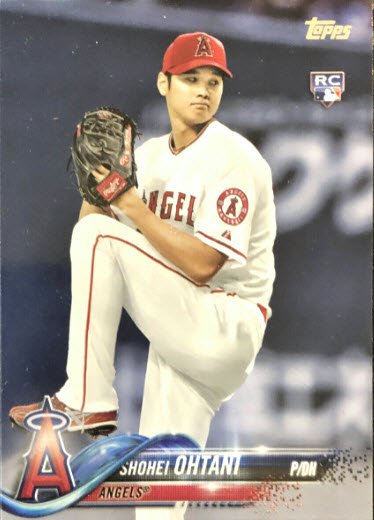 If you're more of a casual buyer, the Shohei Otahni rookie card search can be super confusing. As is the case with most current players, there are a lot of them to choose from–63 in all, according to Beckett's database.
Topps and Panini produce dozens of different products each year and obviously both makers tried to get Ohtani into as many sets as they could during his rookie season. There are some basic staples, though.
Ohtani's first regular issue Topps card (#700) arrived in 2018 Topps Series 2. The flagship Ohtani rookie is plentiful today and an ungraded copy won't cost you much at all. There are plenty of colored parallels to chase if you want. The 1/1 Topps Superfractor created quite a buzz in September of 2018 when it sold for over $184,000.
There was a photo variation (see image below) of the regular Series 2 rookie card in the complete boxed sets you could buy in stores, too.
It's another inexpensive option that's more limited than the regular rookie card.
The Topps Angels factory team sets, which also contains a flagship-style card, is another option that's very budget-friendly (and you get Mike Trout, too).
The Topps Chrome Ohtani (#150) and Chrome Update (#32), which featured a new photo, are two other standard issue options. The Chrome Superfractor, graded BGS 9.5, sold for $190,000 on May 27.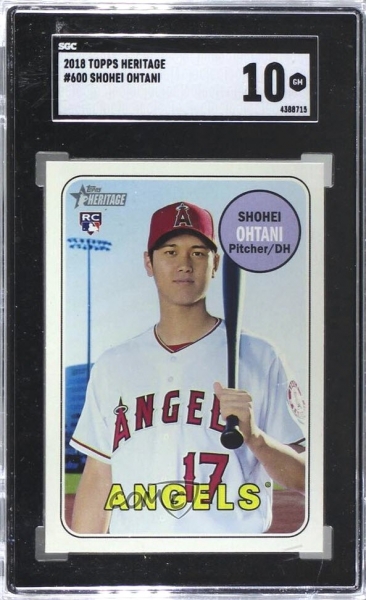 Other low cost Ohtani rookies include Bowman (#49); Bowman Platinum (#34); Bowman's Best (#1); Heritage (#600); Gypsy Queen (#89); Topps Gallery (#116); Big League (#141), Topps Archives (#50); Topps Fire (#150) and Allen & Ginter (#50). Topps Opening Day (#200) was among his earliest pack-pulled cards, with a photo from the news conference at which the Angels announced his signing.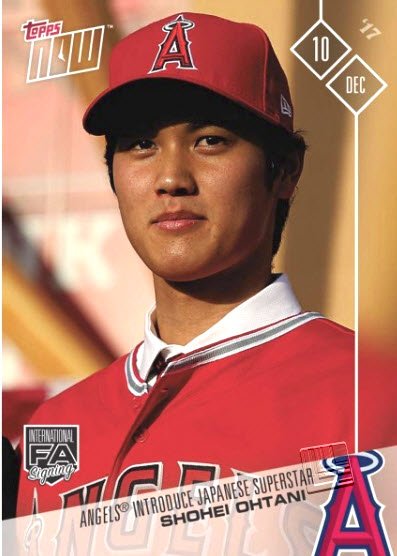 Topps also cranked out some online exclusives, including another photo from that news conference for its NOW Off-Season set. A total of more than 17,000 were ordered, so it's also among the low cost options. The 1/1 autographed Topps NOW card printed to commemorate his first MLB homer and carrying an inscription sold not long afterward for $9,500.
There are also a couple of fun Moment of the Week cards featuring Ohtani and Ruth you can snare for just a couple of bucks.
Panini's deal with the MLBPAproduced numerous cards that won't cost as much as some of their Topps counterparts including Donruss, Donruss Optic, Diamond Kings, Contenders and Prizm. Their Illusions issue is among the best looking Ohtani rookie cards of all.
Ohtani's first American baseball card issue was actually in 2017 Bowman Chrome, which depicted him as a member of Japan's team in the World Baseball Classic and was only available in Mega Boxes sold at Target. The 1/1 Black Refractor from that issue, graded BGS 9.5, sold for $12,995 three years ago.
Ordinary copies vary depending on grade, but very nice examples and some parallel versions can be had for well under $1,000.
Ohtani Autographed Rookie Cards
Ohtani's autograph is more of a scribble, but that hasn't stopped collectors from chasing his signed rookie cards.
Unlike most prospects who are in the minor leagues when their autographed cards appear in Bowman Chrome products, Ohtani's Bowman Chrome autograph is actually a rookie card showing him in his big league uniform and it's among the most sought after of his autographed rookie cards. On June 6, one of the five Red Refractor versions (BGS 9.5) sold for $56,716 in an eBay auction.
His first signed cards were in 2018 Topps Heritage. The Red Ink auto version numbered 1 of 69 was pulled by collector/Phillies relief pitcher Pat Neshek. It sold for $6,101 not long after it was pulled from a pack.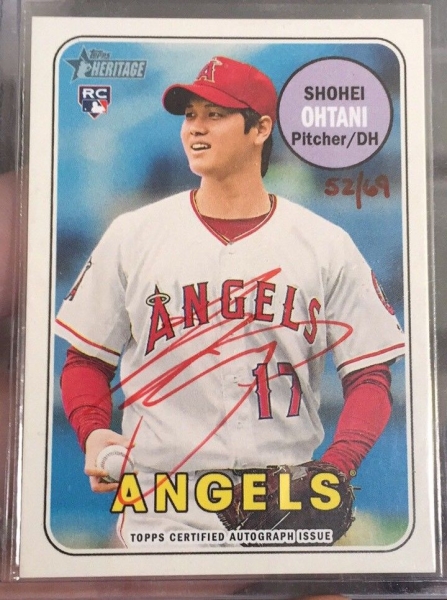 There were many more issued as the 2018 season played out. Among the higher end autographed Ohtani rookie cards are in Topps Diamond Icons, which are numbered to 25 and Topps Dynasty (seven different cards, all numbered to 10).
Panini's autograph deal pushed Ohtani autographs into high-end products like National Treasures, Immaculate and Flawless Baseball.
So which is the best Ohtani rookie card? It's a tough (and often subjective) call, depending on whether you like autographed cards, extremely low serial numbers or just prefer the best looking cards that capture his historic arrival in the major leagues.
The 2017 Bowman Chrome and its various parallels got Ohtani-mania off the ground in US collecting circles but the best answer–at least right now–seems to be all of them. If Ohtani continues to stay healthy and productive at the plate and on the mound, he will be among the most talked about players of the 21st century–and a player with appeal on at least two continents.
You can monitor the 75 most watched auctions for Shohei Ohtani rookie cards on eBay anytime via the real-time list below.