Topps has unveiled the result of its collaboration with former Clemson quarterback Trevor Lawrence, his brother and sister-in-law. The new online exclusive product is a 25-card pack with serial numbered autographs and parallel cards possible.
Barring any shocking developments, Lawrence will be the number one overall pick by the Jacksonville Jaguars in next week's NFL Draft. He's the first incoming NFL prospect to be featured in his own boxed set of trading cards.
While packs include 25 cards, the complete set will consist of 50. They include cards developed by his brother Chase and sister-in-law Brooke, who are both artists. The two used their own photos and digitization to come up with 20 rather cosmic creations. The other 30 cards were made by Topps using some of the company's old football card designs. While it could hammer out an individual endorsement deal with Lawrence ahead of the draft, Topps wasn't able to utilize any college or NFL trademarks because Panini owns the licenses for both.
Topps offered the product to its Montgomery Club members first. Remaining boxes listed via this link on Topps' website sold out at $75 each within a couple of hours on Wednesday, however the company indicated they would be back in stock next week. Numerous boxes are being offered on eBay.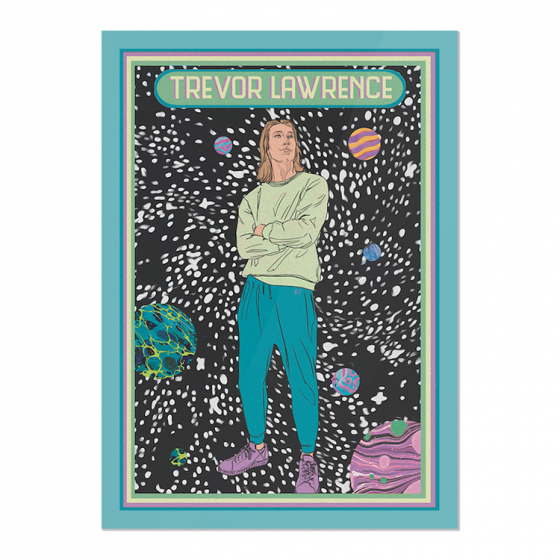 To create the cards they contributed to the set, Chase and Brooke Lawrence say they took inspiration from psychedelic period pieces from the 1960's-70's as well as classic comic book and graphic novel illustrations. There are two different box designs created by Chase and Brooke Lawrence; the "Rising Sun Edition" and "Moon Beamer Edition."
"I really wanted to show that crazy, fun, energetic side of him that I don't think a lot of the fans see," Chase Lawrence said in a video Topps produced to promote the collection.
Autographs numbered to 99 or less will be included at a rate of one in every five boxes. Parallels will be found in every other box and include:
Autograph card numbering will include:
Print runs will be revealed after sales window expires.