Sports Collectors
A Divine Collection? Priest Auctioning Off His Vintage Baseball Cards to Benefit Low-Income Students
Many cosmologies revolve around helping the less fortunate, a principle that is embraced by Christians during the 40-day liturgical season of Lent.
Some give up luxuries like coffee, others alcohol—but some use the time to look beyond themselves in an effort to provide for those who may not have many luxuries at all.
Father John Ubel, rector of the Cathedral of St. Paul in St. Paul, Minnesota, chose to recently auction off his prized collection of vintage baseball cards, all in an effort to support the Aim Higher Foundation, a nonprofit organization that provides scholarships to deserving students at Catholic elementary schools in the area.
Having owned some of the cards for close to 50 years, Father Ubel learned of the fast appreciating values for some of his cards and decided the time was right to have them do some good.
Photo courtesy of Dave Hrbacek and The Catholic Spirit.
"In the Lenten tradition, we have prayer, fasting and almsgiving," Ubel said in a an interview with Fox 9 in Minneapolis-St. Paul.. "Almsgiving has to be done with a sense of joy, and I can tell you that I've never been happier to give something away in my life."
Slated to end this upcoming weekend (March 12-14), the collection features a PSA 4 1948 Leaf Jackie Robinson Rookie Card and a PSA 5 1954 Topps Hank Aaron rookie card, both being offered on eBay.
While Ubel expects to net $25,000-$30,000 for the Aim High Foundation, the surging card market coupled with the generous cause could make that a conservative estimate. A PSA 4 1948 Leaf Robinson sold for more than $20,000 alone in January of this year and prices for his cards have continued to rise over the last several weeks. The card in the Aim Higher auction currently has 59 bids totaling $21,500 with more than three days left. It alone could exceed Ubel's expectations for the entire collection.
Some of his other notable cards include a PSA 6 1967 Topps Rod Carew rookie card, a PSA 6 1966 Topps Mickey Mantle, a PSA 7 1971 Topps Terry Bradshaw rookie, a PSA 5 1955 Topps Harmon Killebrew rookie, a PSA 6 1963 Topps Tony Oliva rookie along with ungraded rookie cards of Nolan Ryan, Johnny Bench…and even John Ubel himself.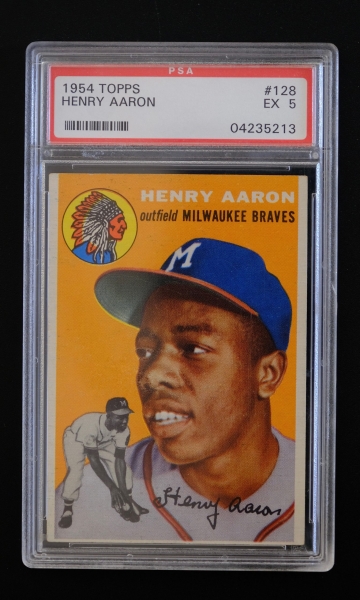 Ubel's card features him as a youngster in his 8th grade Nativity jersey and lists right fielder/first base coach as his position. It's a true #1/1 and signed by Ubel on the back. It's a testament to his love for the game, a passion that spilled over to collecting baseball cards.
"It's the only sport I ever really played," Ubel said in an interview with The Catholic Spirit. "I like to joke that my claim to fame is we won the city championship at Nativity in '77. I sat on the bench, but I coached first base and nobody got picked off whenever I was coaching first base."
It was Dr. Archibald Graham A.K.A. Moonlight Graham in Field of Dreams that reminded us that sometimes our childhood fantasies aren't where our true calling resides. When Ray Kinsella (Kevin Costner) asks Graham how he wasn't more upset about being so close to his dreams, the doctor replied, "If I'd only gotten to be a doctor for five minutes… now that would have been a tragedy."
For many, it would have been a similar tragedy had Ubel only followed his call to priesthood for five minutes, as he has impacted countless lives along the way with his altruism and generosity. Auctioning his cards for lower-income students is just his latest act of kindness.
"On a human level, I don't want to part with these," he said in his interview with The Catholic Spirit, "but I also think there are other needs right now that in my life are more important."