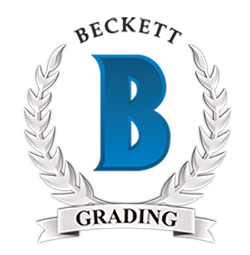 Overwhelmed with orders, Beckett Grading Services will temporarily stop accepting most trading card submissions next week.
Like its competitor, PSA, Dallas-based Beckett has a backlog of ungraded cards that's so large that collectors and dealers have been waiting months for orders that used to be completed in weeks.
Beckett Collectibles President Jeromy Murray says all grading submissions other than the Premium Level service will be suspended after Monday, June 7.
"All orders that are submitted under the Express, Standard, and Economy level will be returned to the customer, ungraded," he told customers Tuesday in a statement tucked inside the company's plans for the 2021 National Sports Collectors Convention. "The reason behind this decision is simply to allow us to focus on the growing backlog we have and to get as many cards back to customers as possible, before the National. This is not ideal for anyone but something our competition has done."
Beckett's Premium Level service costs $250 per card or $150 without subgrades being assigned.
Grading companies have been inundated with orders—mostly consisting of modern era trading cards—for more than a year as collectors and sellers look to take advantage of a robust market for cards. COVID-19 exacerbated the problem.
In late March, PSA suspended all but its higher end services and while the company has indicated it is caught up on processing submissions, it has yet to resume accepting orders beyond the highest service level. Graders have been working to catch up, but the backlog of ungraded cards totaled well into the millions prior to the shutdown.
SGC raised its prices to $75 for regular submissions, hoping to slow the tide of orders, then reduced it to $30 not long ago after catching up.
Beckett's backlog means customers are currently waiting eight months or more for Standard level submissions to be processed and returned and 11 months or more for Economy level orders.
Last fall, the company lost grading directors Andy Broome and Westin Reeves to Certified Collectibles Group, which launched its CSG trading card division.
Most Watched Beckett graded cards at auction now