Sports Collectors
Family's Century Old Baseball Set Headlines Upcoming Memory Lane Auction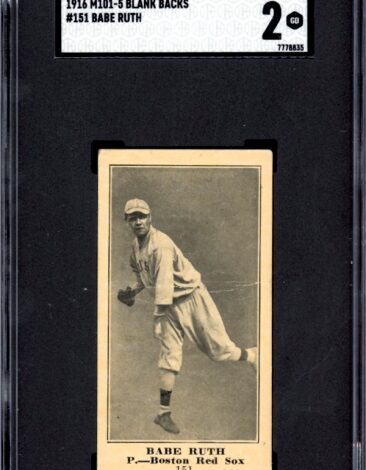 Collected by a New England teenager more than 100 years ago and passed down through the generations, a near complete set of 1916 M101-5 baseball cards makes its auction debut later this month when Memory Lane opens its Sets and Set Breaks Auction. The valuable group includes Babe Ruth's rookie card along with most of the other deadball era stars and will be broken into numerous lots.
The consignor is the granddaughter of the original owner, who became fascinated with the photos of baseball greats and worked to accumulate 193 of the 200 cards, which have been in the family ever since. The Ruth card has been graded 2 by SGC and carries a $50,000 opening bid. Many of the cards are among the best ever examined by SGC including examples of Joe Jackson and Jim Thorpe, both graded 5.
The auction will be one of the biggest accumulations of high grade iconic sets, near sets and unopened material offered in the hobby this year. Over 2,250 lots will be featured including over 7,000 graded cards and 261 lots focused on unopened boxes and packs.
A 1933 Goudey near set of 235 cards is also among the headliners with three of the four Ruth cards and a Lou Gehrig, all graded PSA 8.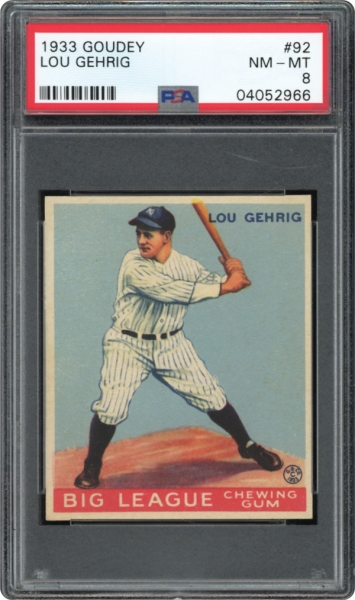 A 1933 Goudey Sport Kings set break includes 43 PSA 8s and seven 8.5s with Ruth, Ty Cobb, Red Grange and Jim Thorpe all rated 8.
Fans of pre-War cards will also see a 1941 Play Ball set with a PSA 8 Ted Williams and a 1935 National Chicle set with the Holy Grail of football cards, Bronko Nagurski in a PSA 6 grade.
The jaw dropping offering continues into the post-War era with a 407-card set of 1952 Topps Baseball that includes a higher grade Mickey Mantle and a PSA 7 Willie Mays and carries a 7.96 overall GPA. A 1952 Bowman set is also offered with both Mantle and Mays rated PSA 8.
A high-grade 1954 Red Heart Dog Food set has an 8.18 GPA with all 34 cards graded.
There's a complete 1967 Topps set with PSA 9 examples of Mantle and the rookie cards of Tom Seaver and Rod Carew, a 1968 Topps set with PSA 9 examples of Mantle and the Johnny Bench rookie card along with a PSA 8 Nolan Ryan rookie. Another section features a high-grade group of 1961 Topps including the high numbers.
The auction also includes non-baseball offerings such as a 1957-58 Topps set with a PSA 8 Bill Russell rookie card and a 1957 Topps Football set with a PSA 8 Johnny Unitas rookie card.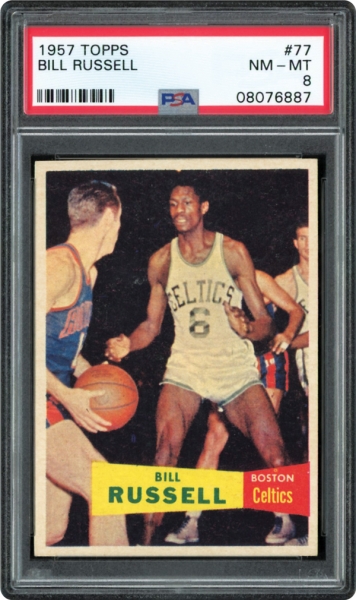 In all, 32 sets and near sets will be broken and sold individually or in lots.
Among the more than 250 lots of unopened material are packs of 1957-58 basketball, 1955 Topps Baseball, multiple 1960s cello packs including a '60 Topps with Mantle on top and a 1964 Philadelphia with Jim Brown showing.
There's a 1978 Topps Baseball vending case, a trio of unopened Red Man Tobacco packs (two with Warren Spahn cards showing on the back and another with Mays), a 1970-71 Topps 2nd Series Basketball box and numerous other full boxes in all four major sports from the 1970s-90s. There are display boxes and vintage wrappers among the listings as well. Also featured are a group of rare and highly sought after Pokemon unopened boxes and packs highlighted by a factory sealed 1999 1st Edition base set.
The auction will open November 20 and runs through Saturday, December 4. More information will be available on the company's website.