'Fess up. Card collectors can be obsessive about the hobby. So can dealers.
But when obsession begins to wreak havoc with your personal life, how do you sort out what is truly important?
That's the premise behind Gem Mint, a 74-minute independent film produced by Brooklyn, New York, native Uzef Gavrilova that premiered June 1. It is Gavrilova's second full-length film, and he even has an important cameo role — like a Coney Island version of Alfred Hitchcock.
Before getting involved in film, Gavrilova was a cigar salesman, a web designer for adult sites, a bookkeeper, medical technician, table tennis player, powerlifter and clinical exercise specialist.
Gem Mint is an exercise in obsession, with veteran actors you may not have heard of. Most are from the New York area, as Gavrilova wanted an authentic Brooklyn feel in this project. Many of the background scenes show different areas of the borough. That includes Owl's Head Park, a place dear to me since I went there many times as a young child and lived nearby on Owls Head Court, deep in the heart of Bay Ridge.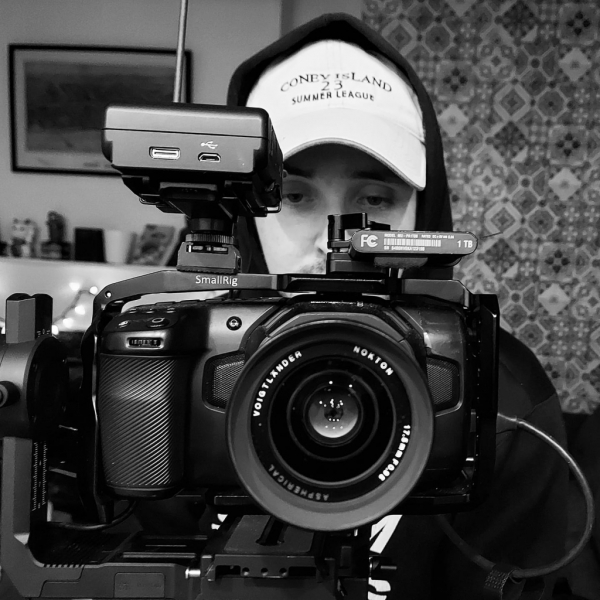 Usef Gavrilova directed "Gem Mint" and tried to made it an authentic Brooklyn film.
Michael Micalizzi plays the lead role of Billy Castigliano, a card hustler who goes to shows and has a big presence on YouTube. He does pack break videos and comments about the product he acquires from various shows in the Tri-State area. He is also not averse to trying to lowball people who have collections to sell, then flipping them for a big profit. It's a habit that will backfire later in the film.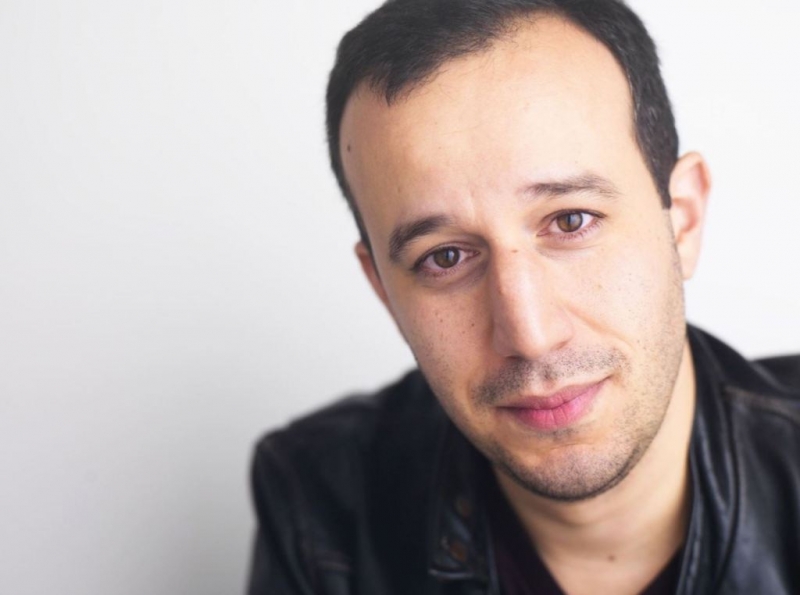 Michael Micalizzi is the star of "Gem Mint."
Micalizzi's film credits include 2009's The Likes of Us, and he played Brice in the 2013 film, Out of Order. He also had a role in the 2010 short film, The Red Woman.
Marxen plays Billy's wise-cracking, street-wise sister, Toni Castigliano. She runs the Gem Mint card shop (which is actually The Hot Corner, a real-life shop in Brooklyn that Gavrilova frequented as a youth) while Billy hustles deals.
"It's all about the hunt," Billy says.
Marxen, who has acted and directed, appeared in a 2017 episode of Queens Luxury Oasis, was a writer for 2018's drama short Mirrors and worked with Gavrilova in the 2019 comedy short, Waiting Room.
Mary Marxen plays Toni Castigliano.
Billy returns home one day after a card show and immediately records a YouTube segment. He notices that his wife and two children are not home, but thinks they are out for a walk.
He's wrong. Candy Castigliano, played by Lisa Fernandez, is tired of her husband's one-track mind about sports cards and wants a divorce.
"I warned you what would happen," she says. "You're always so busy with your stupid baseball. The kids don't even know you anymore."
Lisa Fernandez plays Candy Castigliano, Billy's wife.
Fernandez, who also had a part in Waiting Room and appeared in the 2007 film Over the G.W., later tells Billy that her children don't think of him as a father, but as an uncle.
Much of Gem Mint is filmed at close range and was completed in three weeks. We see Billy's hands as he looks through cards, and get an inside look at his refrigerator while he looks for food and cracks open a beer. There is not much background music, although baseball fans will appreciate interludes that include the John Scott composition, "Gathering Crowds," which was the longtime, majestic instrumental theme song of This Week in Baseball; and "Talkin' Baseball," by Terry Cashman.
Most of Gavrilova's $4,000 budget for the film was mostly spent on getting permission to use the songs.
Because of COVID-19, that point-of-view vantage was necessary, and that forced Gavrilova to handle most of the production chores. It also prevented Gavrilova from shooting scenes at actual card shows, since the pandemic shut down many shows.
Except for Marxen's portrayal of Toni Castigliano, many of the characters in Gem Mint are not too likable. But that is probably by design. Micalizzi is frighteningly depressing as his character is disheveled, unshaven and fortified by beer. Fernandez portrays the angry wife pushed to divorce and plays the part well. She also happens to be Gavrilova's wife; they were married in April.
Rendino is amusing as Billy's attorney, the fast-talking Vinny Dykstra of the law firm Dykstra, Dean & Dean. The immaculately dressed Dykstra even goes overboard with obscenities probably not heard since another Vinny — Vinny Gambini, played by Joe Pesci — assaulted the legal system in 1992's My Cousin Vinny.
Jason Duval has a minor part as the smug Jays Ball, the bane of Billy's existence as a competing card dealer.
As Gem Mint progresses, Billy wallows into self-pity but perks up when he figures he might have a shot at buying a 1952 Topps Mickey Mantle from a widow whose late husband had a vintage card collection (unfortunately, they didn't use a real one in the film, just a reprint).
While waiting for the meeting with Mrs. Donofrio, Billy tapes a YouTube segment and airs his dirty laundry, telling his more than 100,000 viewers about his marital problems. What's worse, he opens packs of cards that reveal cards from the junk wax era: Who would watch a video about opening a pack of 1988 Topps? The strained marriage was probably a relief to Billy's subscribers.
The video naturally does not sit well with Billy's wife — or his attorney, who warned him earlier "not to do anything stupid."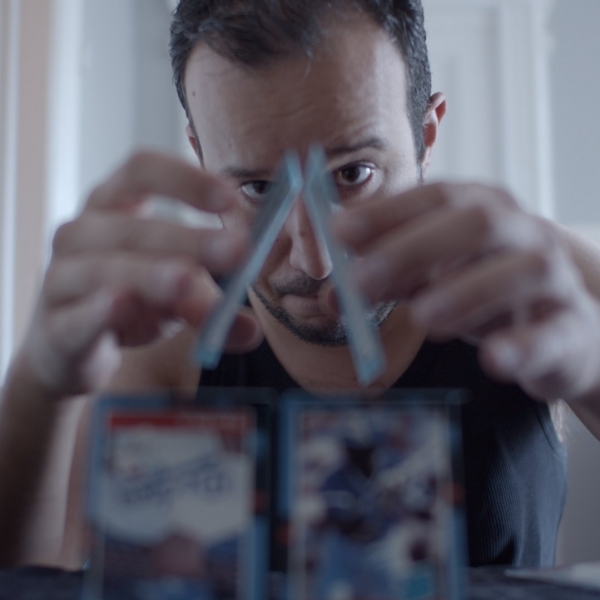 Billy lashes out at his lawyer and even his loyal sister, alienating both. He spirals into bizarre conversations with a large cardboard box with a face drawn on it. Billy has named it Byron Buxton (played by "himself," Gavrilova notes in the credits), has a wrestling match with it and even uses a seat belt to buckle the big box into his car.
No wonder his wife wants a divorce. Unstable, thy name is Billy. However, Byron is symbolic of the loneliness Billy feels. He has to talk to someone.
Billy finally has a revelation when he visits a collector named Aaron (played by Gavrilova), who has an impressive vintage collection, especially cards of the Brooklyn Dodgers. Aaron wants to sell his collection and is all business until his attention is diverted by his child. Aaron leaves the room to spend time with his kid, and the action hits Billy in the face like a damp rag.
Billy calls his wife and wants to work things out. They set up a lunch meeting, but Billy soon discovers that it overlaps with his visit to Mrs. Donofrio. Convinced he can squeeze in both, Billy goes to the widow's apartment.
Instead, he bumps into Jays Ball, who gleefully tells Billy that he bought the card after making a fair deal ("old ladies know how to Google," he taunts).
"Empty apartment — empty-handed," Ball sneers.
Billy trudges away, then gets caught in traffic and keeps his wife waiting at the restaurant. She leaves, and divorce is a done deal.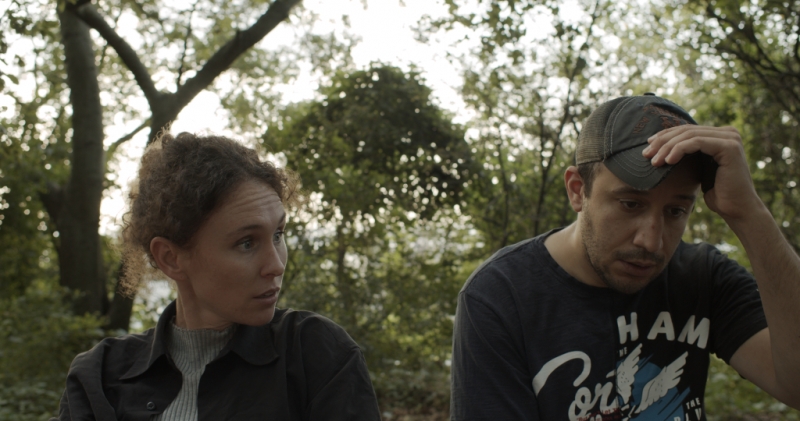 Still, Billy follows through on his promise to get out of the card business. He meets his sister at Owl's Head Park to apologize.
Billy tells Toni that he is turning the card shop and his collection over to her. She is naturally stunned, but Billy has a good reason to walk away.
"It's not my life's work," Billy tells his sister. "It is a passion, a business, call it whatever you want. My kids … they're my life's work."
Then the film ends with a nod toward Field of Dreams, where Billy plays catch with his son and daughter (who is actually Gavrilovae's niece) in the park during a weekend visitation.
Available to download at a cost of $5, Gem Mint is a fun film. The language is vulgar at times, and the film could have been 10 minutes shorter: I vote to delete the Byron Boxton scenes. Although Billy does throw Byron into the trash, so there is a measure of satisfaction.
I'm kidding, of course.
But the moral of the story resonates: A hobby should be a diversion, not an obsession.