Sports Collectors
Historic Collection Of NFL Co-Founder Leo Lyons Covers League's Formative Days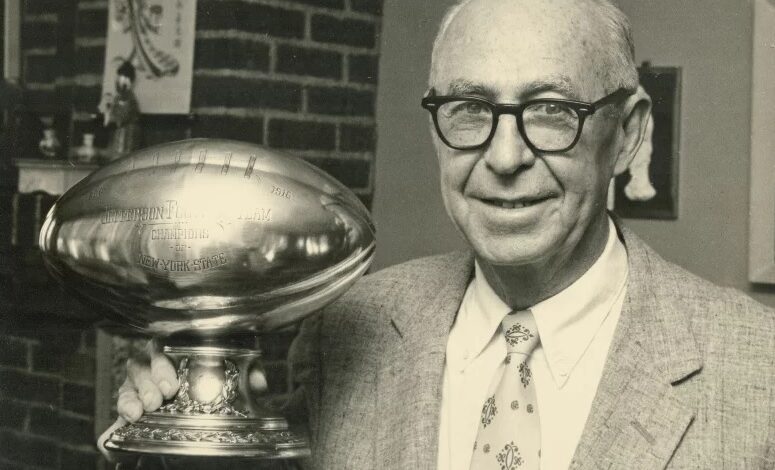 It is a list of memorabilia items that reach back to the earliest days of the National Football League. John Steffenhagen has heirlooms that once belonged to a founding father of the league — his great-grandfather, Leo V. Lyons. They include game-used equipment, artifacts and a journal kept by Lyons, who was the NFL's honorary historian for nearly two decades until his death on May 18, 1976. The journal, written and dated on scraps of paper, details the league's earliest years.
"It's astonishing," said Steffenhagen, 54, a mail-carrier in the Rochester, New York, area for nearly three decades. "They have been sitting in my bedroom for 40 years."
Leo Lyons holding the trophy the Rochester Jeffersons won for taking the New York state football title in 1916.
Steffenhagen does not need the league's stamp of approval. He knows what he has is authentic, even if it took him years to connect the dots.
"I have backups to the backups to prove that what I have is real," Steffenhagen said.
The Smithsonian Institution wants the collection; so does the Pro Football Hall of Fame. And Steffenhagen will be traveling to Canton, Ohio, to meet with historians at the shrine of pro football from June 24-27.
"I'm not selling," Steffenhagen said. "The Smithsonian wanted me to hand it over for free and that's not happening."
However, Steffenhagen would allow his great-grandfather's collection to go on exhibit, and the Hall of Fame would be an ideal spot. Lyons already donated some items to the Hall of Fame after it opened in 1963.
Two pages from Leo Lyons' journal, including the notes that previews the Sept. 17, 1920, meeting that resulted in the formation of the NFL.
"If anyone had the Hall of Fame at heart, it was Leo Lyons," Dick Gallagher, a former director of the Hall, told the Rochester Democrat and Chronicle in May 1969 after Lyons died.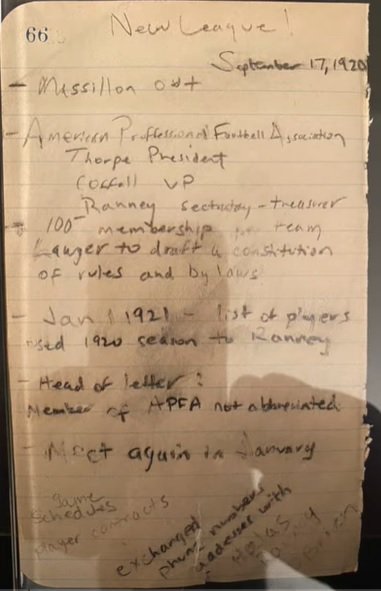 An entry from Leo Lyons' journal that documents the formation of a "new league" — the NFL.
Lyons had some great items that remained at home. But Steffenhagen did not realize their significance until he moved into his new home earlier this year. While moving boxes of his great-grandfather's memorabilia, some papers fell out of a 1966 Hall of Fame program.
It was gold. There was a letter from then-NFL commissioner Pete Rozelle asking Lyons for an inventory, and a one-page checklist of what Lyons had. That put a tangible face on "Leo's boxes" that Steffenhagen had owned since he was a teen.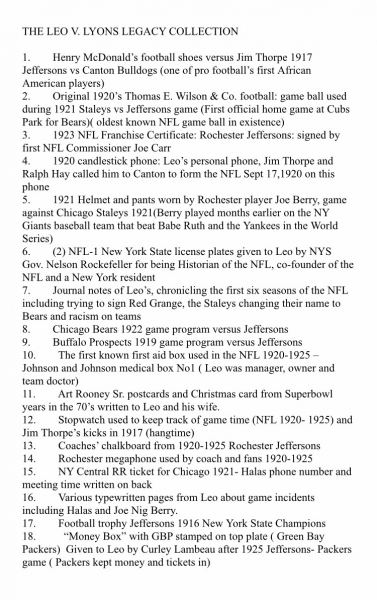 Here is a list of the inventory items that John Steffenhagen currently has in his possession.
And what an inventory. Lyons was the owner, coach, manager and lead financial backer for the Rochester Jeffersons in western New York, a team that played in the league from 1920 until it folded after the 1925 season. Before that, he played for the Jeffs beginning in 1908 and became the team's manager in 1911. He was handling team affairs while also serving in his main job with Rochester Telephone.
Some of the items written down by Leo Lyons when NFL commissioner Pete Rozelle asked for an inventory.
"He was a walking franchise," Steffenhagen said.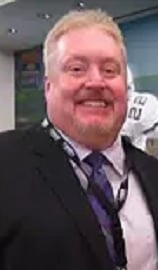 John Steffenhagen's great-grandfather, Leo Lyons, was part of a group that helped create the NFL in 1920.
Lyons' collection includes an original 1921 game ball used by the Decatur Staleys (now the Chicago Bears) against the Jeffersons at Cubs Park (now Wrigley Field), most likely the oldest example of an NFL game-used ball; and a helmet and pants worn in 1921 by Rochester tailback Joseph Howard "Nig" Berry, who kicked a pair of field goals and two extra points that season. Berry also played a total of 15 major-league baseball games for the New York Giants in 1921-22.
There is an NFL franchise certificate awarded to the Jeffersons, signed by league president and future Hall of Famer Joe Carr; a stopwatch used to keep track during NFL games from 1920 to 1925; a 1922 Jeffersons game program against the Chicago Bears; and a first-aid kit box used between 1920 and 1925.
"My great-grandfather gave them to my mother," Steffenhagen said. "He said, just tuck them away. Keep them, they'll be worth a lot of money someday."
One of the more interesting pieces is a money box from Green Bay Packers coach Curly Lambeau in 1925.
The "Lambeau box" was given to Lyons by Lambeau, who threw three touchdowns to lead the Packers past the Jeffersons 33-13 at Green Bay's City Stadium on Oct. 25, 1925.
"The field is new but the bathhouse is not good!" Lyons wrote in his journal the next day. "(We) met after game.
"Lambeau gave me money box — latch sticks — he is a natural-born leader."
Packers coach Curly Lambeau gave Leo Lyons a money box after a 1925 game in Wisconsin.
"The Lambeau box is what freaked most people out," Steffenhagen said. "It sat on my mom's shelf for years."
Steffenhagen said he could not figure out what the initials "GBP" stood for on the top of the box. "I looked up every player and could not find those initials," he said.
Finally, it hit him — "Green Bay Packers."
Lyons' journal notes are fascinating. On Oct. 7, 1923, the Jeffersons lost 60-0 to the Chicago Cardinals, never moving the ball inside the Chicago 40-yard-line. The following week, the squad dropped a 56-0 decision to the Rock Island Independents. Until 2014, it was the only time in NFL history that a team had allowed 50 or more points in back-to-back games. The Chicago Bears matched the feat with a pair of blowout losses to New England (55-23) and Green Bay (55-21) in 2014. At least the Bears had a bye week in between those defeats.
A program from the 1925 game between the Green Bay Packers and the Rochester Jeffersons.
Lyons' notes for the first game included "Need more players," adding that Cardinals left halfback Paddy Driscoll could not be stopped even though at one point he "was knocked out of bounds into (the) crowd."
"Think he killed a fan," Lyons wrote. "Fence didn't fare well!"
Normal Park in Chicago, where the game was played, was half grass and dirt and "looked like a sandlot."
After the 56-0 loss to Rock Island the following week, Lyons wrote "Embarrassing!" and "Never again" in his journal.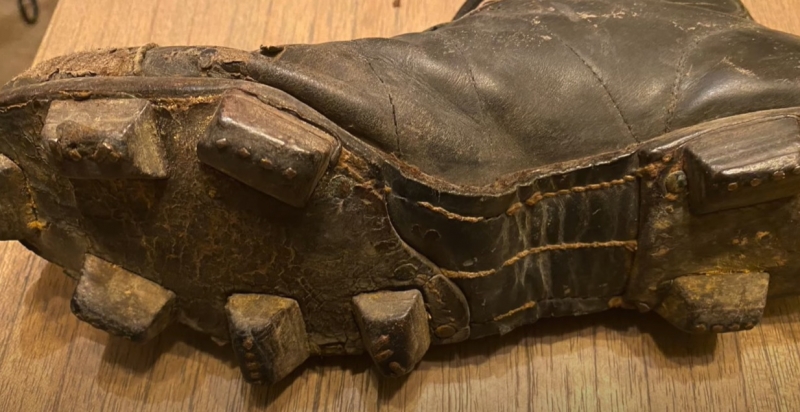 The cleats worn by Rochester's Henry McDonald are more than a century old.
Another item in the inventory is the cleats used by Henry McDonald, who played the Jeffersons from 1911 to 1917 when the team was part of the New York Pro Football League, which was founded by Lyons. McDonald was one of the first Black players to star in the pre-NFL days.
Those were rough-and-tumble times. In 1917, Lyons had to scrap a game against the All-Syracuse squad because he could not come up with a monetary guarantee for the visiting team. Rain before the game ensured that the crowd would be small, and Lyons had been hoping for a large turnout to cover expenses.
Lyons "took a gamble on the crowd separating themselves from enough kale to make up the visitors' guarantee," the Democrat and Chronicle reported in a Nov. 19, 1917, story. "But it rained all day up to game time and the crowd was very small."
The Jeffersons, by the way, got their name from Jefferson Avenue in Rochester, where the team played its games.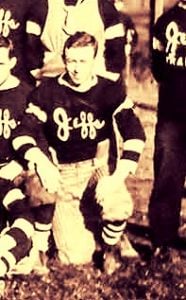 In addition to owning and managing the team, Leo Lyons also played for the Rochester Jeffersons.
For years, Steffenhagen believed the cleats belonged to Lyons, and not McDonald. But after acting on some advice from the Smithsonian, Steffenhagen shone a flashlight on the heel of the sneakers and found McDonald's initials scratched onto them. Steffenhagen was able to photo-match the cleats to those he owned.
As a child, Steffenhagen can remember his great-grandfather retiring to the front porch of his house to smoke cigars with some other elderly men. He later found out the guests were Bears owner George Halas and Pittsburgh Steelers owner Art Rooney.
"I didn't know who those old guys were," said Steffenhagen, whose inventory also includes postcards and Christmas cards from Rooney to his great-grandfather. "His downstairs basement was like a museum."
"Leo was a really fine gentleman and I have considered him a great friend for years," Rooney told the Democrat and Chronicle in May 1969. "He was as dedicated to the National Football League as any man."
Lyons took a call on his candlestick telephone in 1920 ("we almost threw that out a million times," Steffenhagen said) and was invited to a meeting with Halas and others in Canton to form the NFL. The caller was Canton Bulldogs owner Ralph Hay, who set up a meeting in his Canton automobile showroom on Sept. 17, 1920.
The room was too crowded, so the owners sat on car running boards in the showroom and established the American Professional Football Association, whose name was changed to the National Football League in 1922.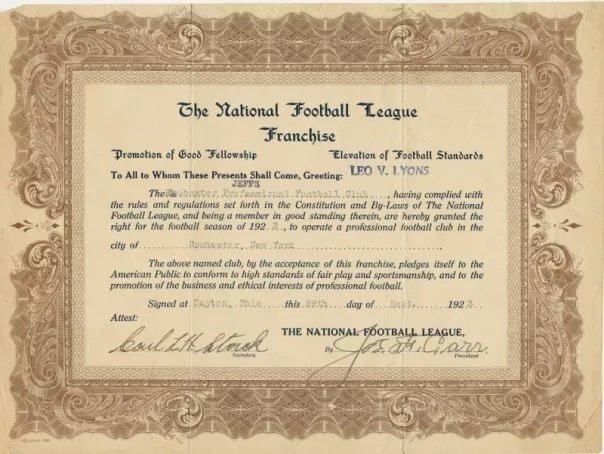 The Rochester Jeffersons' NFL franchise certificate for 1923.
They also had plenty of beer, which was illegal due to Prohibition, which had gone into effect on Jan. 17, 1920, with the passage of the 18th Amendment. The owners had to hide the beer three times, Steffenhagen said.
"Thank God, Ralph Hay knew the cops in town and got them to look the other way," Steffenhagen said. "There might not have been an NFL."
Steffenhagen said Lyons wrote a 10-page account of the meeting.
"The Hall of Fame has two pieces of paper," he said.
The irony of this collection is that one might think Steffenhagen, as a western New Yorker, would be a big Buffalo Bills fan. Instead, he was a Miami Dolphins fan and said Hall of Fame quarterback Dan Marino was his favorite player.
That stunned former Bills player Steve Tasker, who appeared with Steffenhagen on a "One Bills Live" radio show last year.
"Tasker said, 'You must be a Bills fan,'" Steffenhagen said. "When I told him I liked the Dolphins he said, 'Who let this guy in the building?'"
The Lyons collection is safely tucked away in a secure spot — "I'm paying a lot of money to keep it in a safe spot," Steffenhagen said.
A Wilson football used in a 1921 game between the Rochester Jeffersons and the Decatur Staleys (now known as the Chicago Bears).
The publicity generated by his find has "been overwhelming."
Steffenhagen said he has been offered "insane amounts of money" from memorabilia dealers but is in no hurry to part with Lyons' collection.
"I have had this stuff for 40 years, so I am not in a hurry," Steffenhagen said. "I'd like for it to go to the Hall of Fame, but I don't like the idea of just handing it over.
"If they want to do an exhibit on loan, well, that would be fine."