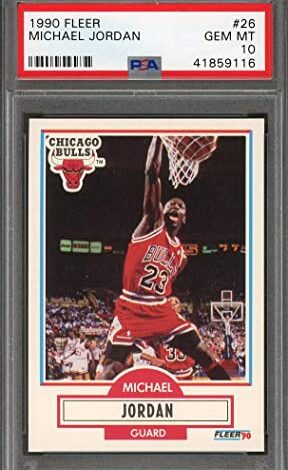 PSA's months-long shutdown for all but some higher value services continues as the company tries to work through millions of cards that clogged its grading pipeline. The numbers of cards being authenticated and graded now is staggering, but there's still a mammoth backlog.
Data compiled by GemRate.com indicates the company graded about 736,000 cards—over 24,000 per day—in June alone. That was up 28% from May, indicating the company has increased output thanks to additional hires, additional space and newly implemented systems. Most of the cards that were graded last month were submitted prior to 2021.
In all, PSA has graded more than 1.3 million cards in the last two months but millions more remain in the system.
Gem Rate's analysis of the data from PSA's Population Report indicates that nearly half of the cards that were graded in June are cards that were issued over the last ten years, One quarter were 1990s era cards. Those numbers were actually down from what the company graded in May. Owner Ryan Stuczynski has been examining PSA's population data for several months and creating detailed reports each month.
The bulk of the modern cards graded by PSA–some 277,000—were basketball cards and 50,000 of those featured one player: Michael Jordan. That would seem to indicate a lot of collectors took advantage of last year's Collectors Club special that offered a chance to grade most standard issue Jordan cards for less than $10. Most of the Jordan cards graded were from 1989-1991 including 2,700 1990-91 Fleer. 7.6% of those were graded Gem Mint 10 and 43% were given a 9. PSA has now graded over 26,000 1990-91 Fleer Jordan cards.
In all, according to the company's population report, PSA has now graded over 1.1 million basketball cards from 2019-20 alone, with 53% rating Gem Mint 10. Last month, the company examined 19,800 2019-20 Panini Prizm basketball cards, over 11,000 Panini Mosaic and over 10,000 Panini Chronicles. They've examined 508,167 cards form 2018-19 (Luka Doncic and Trae Young rookie year), with 52% rating 10.
"It's very clear PSA is grading considerably more of the value submissions and this will continue as those tiers make up the bulk of the backlog," the company stated in a post outlining the month. "Expect to see similar trends in July with a further increase in bulk football emerging."
PSA graded 2,400 1992-93 Shaquille O'Neal Topps rookie cards in June, up 61% from the month before. About 11% were graded Gem Mint 10. They also graded 1,100 Fleer Ultra Shaq rookies, up 207% from May with 15.4% grading Gem Mint.
Other popular cards that were processed included 2,200 Luis Robert 2020 Topps rookie cards (#392)—down 36% from May—with 42.2% meriting a 10 grade. They examined 1,100 2011 Upper Deck Tiger Woods rookie cards –up 60% from May with 24.2% rating PSA 10. They graded 1,200 Upper Deck Ken Griffey Jr. rookie cards in June, with only 12 rated 10.
Another popular card in June was the 1986-87 Fleer Jordan rookie card. Thanks to a tremendous amount of national publicity last year and the skyrocketing prices the card experienced during 2020, that's not surprising. The population of Gem Mint 10s grew by only one last month, to 318. In all, PSA has now examined more than 21,000 '86 Fleer Jordan rookie cards including nearly 500 in the last two months alone.
PSA's pop report now indicates they've graded nearly 668,000 baseball cards from 2018 and almost 566,000 from 2019.
Football cards from the year 2000 (Tom Brady rookie season) have proven to be the most popular to submit with nearly 520,000 on the books. They've examined over 200,000 each from 1998 (Peyton Manning) and '99, but only a small number of years have total populations of more than 100,000 graded.