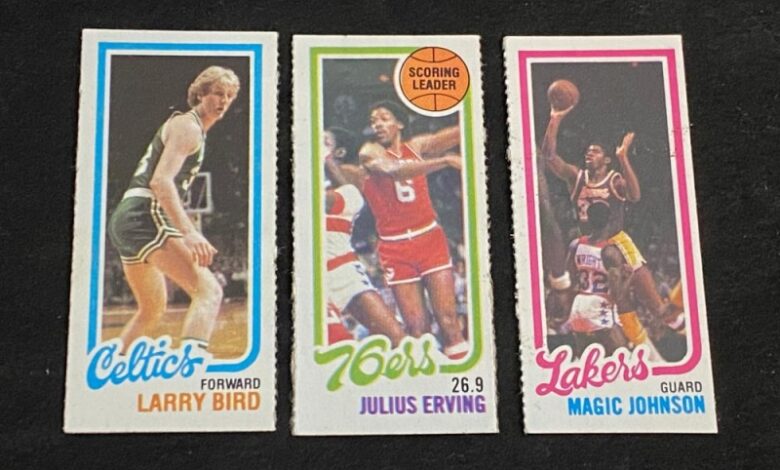 If we're being kind, we might refer to Topps' 1979-80 basketball set as "unspectacular". The product failed to resonate with collectors at the time of its release. More than four decades on, not much has changed.
Despite a attractive design and some sharp action shots, a rookie crop of Alex English, Mychal Thompson and Reggie Theus and, well, not much else, isn't the stuff of legend. The most attractive base card of Kareem's career is only ever going to carry you so far.
After a steady run of eleven years, this was the last "normal" basketball set we'd see for some time.
Two year later, in '81-'82, Topps made the decision to distribute most of its flagship basketball set regionally. The 198-card complete set is comprised of 66 "National" cards, plus three 44-card sets, distributed in the East, Midwest and West regions. All packs included National cards but, for instance, those distributed in L.A. include the West cards, while those in Chicago feature Midwest cards, and those in New York include East cards.
This marked not only the end of Topps' run as the NBA's official card manufacturer, but ushered in yet another period (this one only lasting a single season) in which no mainstream NBA cards were produced. This gave way to the three-year mid-80s reign of The Star Company, whose pack-less distribution model presented its own conundrum. It would be half a decade before Fleer's restoration of relative order to the basketball card market.
Sandwiched in between the "normal", if limp 1979 issue, and that 1981 set is another oddity.
For its 1980-81 basketball set, Topps mixed things up by releasing an entire set in which each card had three panels, each featuring a different player. Throughout the 1970s, Topps had had similar All-Star and Team/League Leader subset cards, but had never done so with base cards. Nor had they ever perforated the areas between panels, inviting kids to turn each card into three "mini cards". (Note: Detached cards are considered damaged, and top out at "Poor" condition.)
The stuff of nightmares.
1980-81 Topps Basketball Breakdown
There are 264 numbered panels, meaning that a complete set ought to consist of 88 three-panel cards. However, Topps used two printing sheets and changed the players around, resulting in a complete set that is actually 176 different cards, consisting of two complete sets of individual panels. There's no way around it; it's weird.
The established stars of the day were, as they'd been for a while, Julius Erving and Kareem Abdul-Jabbar, each of whom features on eight different three-panel cards.
Kareem appears alongside fellow greats Robert Parish, David Thompson and, on what is a future Hall of Famer's rookie card, Sidney Moncrief. However, his most interesting card from the set is one of two that he shares with of-the-era star Calvin Natt. This one is rounded out by a player who proved, quite literally, to possess "championship DNA": Joe "Jelly Bean" Bryant.
Today, you can grab the card of Kareem and Kobe's dad for a very modest investment.
In addition to Moncrief, the set includes rookie cards of a handful of other '80s NBA notables: Micheal Ray Richardson, Michael Cooper, Tree Rollins and – more on these two in a second – Maurice Cheeks and Bill Cartwright.
Dr. J, meanwhile, has a few notable card-mates, including Elvin Hayes, Dan Roundfield, Maurice Lucas and Marques Johnson. Of course, he also shares two cards with Magic Johnson, most notably one that also includes Larry Bird, and is the recognized rookie card of the two legends…you know, the one that just sold for over $500,000?
This, of course, is the obvious standout card. However, the set includes another eight cards featuring the iconic rookies. For obvious reasons, none are nearly as prominent as that card, but they're fascinating in their own rights.
How do they all stack up? Glad you asked!
1. Larry Bird / Julius Erving (Scoring Leader) / Magic Johnson
PSA Pop: 9,693 (includes half grades, but not qualifiers). 24 10s; 613 9s; 2,791 8s; 3,037 7s; 1,884 6s; plus another 48 8.5s and 17 7.5s)
Surprise!! 
I'll try not to belabor this too much.
It's wild that this thing even exists.
Imagine Mays and Mantle sharing a rookie card. Or Elway and Marino.
Two of the greatest, most popular, and most significant players in the history of the sport, sharing a rookie card, with another inner-circle legend – and, to that point, maybe the most iconic player in basketball history – sandwiched in between. With due respect to every other basketball card, this is the greatest-ever piece of hoops cardboard.
For good measure, thanks to persistent issues with centering and print-dots, high-grade versions are incredibly tough to come by. As noted here just last week, the number of Magic-Bird RCs graded by PSA (9,693; including half grades, but not qualifiers) is less than half that of the 1986 Fleer Michael Jordan (20,866). Despite this, more than thirteen times as many (318) Jordans have earned PSA 10s, while nearly five times as many (and almost exactly as many Magic-Bird PSA 8s) have received 9s.
Based on what we've seen with the highest-end Jordan, Kobe, LeBron, Luka, Giannis and Steph cards, it's genuinely a wonder that it took this long for one of these to top half-a-mill.
Slightly lower grade versions aren't quite as pricey.
2. Mo Cheeks / Magic Johnson / Ron Boone
PSA Pop: 790 (34 10s; 180 9s; 391 8s; 105 7s; plus seven 8.5s)
Admittedly, Magic Johnson's All-Star panel leaves something to be desired, as an otherwise clean shot of the Lakers' maestro is obscured by an arm in the foreground. However, this card's lofty status is owed to a different Hall of Fame point guard.
The left panel features Maurice Cheeks, a rookie with the Philadelphia 76ers. Over the next decade, "Mo" averaged more than twelve points, seven assists and two steals per game (he remains sixth in NBA/ABA history), earned five All-Defense (four of them First-Team) and four All-Star selections. During that stretch, he helped the Sixers to three Finals appearances, and another two trips to the Eastern Conference Finals.
Of particular significance here – on his rookie card – is the proximity to the lead guard against whom Cheeks lined up in each of those Finals appearances, including in 1983, when Dr. J, Moses and Mo swept Magic's Lakers.
As an added bonus, this is by far the most infrequently graded of Magic's 1980s Topps cards, and, anecdotally, tough to find period, let alone in good condition.
This one isn't priced as a common, but it's pretty affordable.
3. Jan Van Breda Kolff / Julius Erving / Magic Johnson
PSA Pop: 1,439 (19 10s; 192 9s; 637 8s; 329 7s; plus 13 8.5s)
You really ride a roller coaster of emotions with this card.
On the one hand, it's two-thirds of the greatest basketball card ever made. A clean action shot of a 21-year-old Magic, flanked by "The Doctor", along with Kareem, the biggest superstar of the day. It's a gorgeous card, with the fingerprints of NBA history all over it. That's super cool.
On the other hand… UGH! Why is it only two-thirds of the greatest basketball card ever made? Admittedly more of an issue if one is ripping open a pack, but the "Magic/Dr. J/white dude" head-fake could be quite the gut-punch.
The third man, Jan Van Breda Kolff, doesn't bring much to the table here, beyond the cool 1970s stars-and-stripes Nets jersey. With nine-year career averages of just over six points and four rebounds, and 26 career playoff games over four fruitless trips to the postseason, to even refer to him as "a guy" would be a stretch.
He did go on to a coaching career, as had his dad, Butch. However, the coolest nugget about their family is that, in 1911, his grandfather, also Jan Van Breda Kolff, became the youngest player ever to appear (he's now third) and score (still #1) for the Dutch national soccer team, with whom he won bronze in the 1912 Summer Olympics.
On the bright side, at least it is the most popular and valuable of the "other eight".
4. Marques Johnson (Scoring Leader) / Larry Bird (Scoring Leader) / Jack Sikma
PSA Pop: 773 (42 10s; 208 9s; 311 8s; 133 7s; plus five 8.5s)
Bird's first solo appearance here has Larry Legend front and center, with a clean shot of both his face and his iconic Celtics "33" jersey. Plus, Bird gets some extra recognition as the Celtics leading scorer in the 1979-'80 season.
Bird is flanked on the left by one of the forgotten stars of the NBA's late-'70s/early-'80s "dark ages", Marques Johnson. A former All-American with UCLA, Johnson was one of the league's best young players, in the midst of a three-year All-Star run, during which, he was also All-NBA three times, including a First Team nod in'78-'79, when he averaged 25.6 points.  Johnson, one of the first "point forwards", wound up as a five-time All-Star, with averages of 20 and 7 rebounds per game. He also led the Bucks to consecutive conference finals appearances in 1983 and 1984, and won the NBA's last-ever Comeback Player of the Year Award in 1985-86. He's a potential future Hall of Famer.
On the other side, there's recently elected Hall of Famer Jack Sikma, then one of the NBA's best young centers, and talisman of the league's last title team before the dueling dynasties of the Lakers and Celtics took over. At the time when this card was released, Sikma had notched two of his seven consecutive All-Star selections.
On pure aesthetics, this is probably the nicest of the bunch here. The diverse shades of green running through each panel are so sharp. That it comes from some especially attractive jerseys – the wildly underrated early-'80s Bucks, the beloved "Seattle skyline", and, of course, the Celtics' iconic simplicity – only adds to the appeal.
As an added bonus, this card has rarity on its side, as just one card featured here has been submitted less frequently to PSA for grading.  The 80s star power is pretty strong here and it's not a stretch to label this as a very underrated card, based on current prices.
5. Larry Bird / Bill Cartwright (Rebounding Leader) / John Drew
PSA Pop: 1,625 (31 10s; 310 9s; 785 8s; 312 7s; plus 12 8.5s and five 7.5s)
This time we've got Bird leading things off, on the left panel, with the same photo that features on his RC with Magic. This is, in essence, the yin to the yang of the Magic/Dr. J/Van Breda Kolff card.
In the middle is the rookie card of a relevant, if not quite legendary big man, Bill Cartwright, who was coming off of a 22 & 9 (ish), All-Star worthy rookie season. It's lost to history at this point, but, in his first five NBA seasons (before a serious foot injury cost him the 1984-85 season and much of his mobility), Cartwright was one of the league's bright young stars, averaging 17.9 points and nearly eight rebounds per game. I suppose a trio of titles with Michael Jordan and Scottie Pippen is decent consolation.
The card is rounded out by another forgotten star of the era: John Drew. In his first eight NBA seasons (all with the Hawks), Drew averaged 21.2 points and 7.5 rebounds per game, and earned a pair of All-Star selections. Over his first nine seasons (he was part of a 1982 trade with the Jazz that delivered Dominique Wilkins to the Hawks), he never averaged worse than 18.5 points per game, and six times put up over 20 per game.
Prices for this one are fairly strong thanks to the rookie card duo.
6. Fred Brown / Larry Bird (Rebounding Leader) / Ron Brewer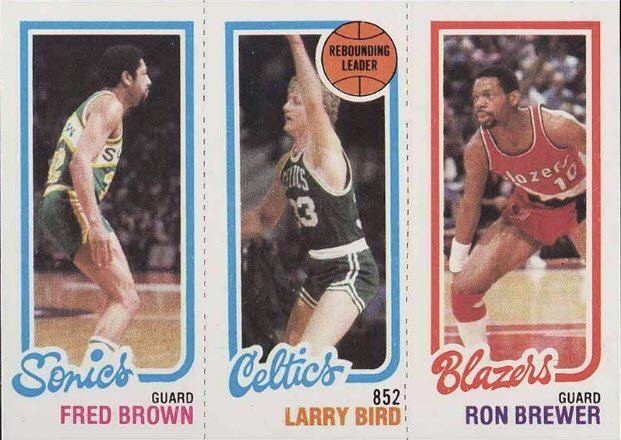 PSA Pop: 1,295 (55 10s; 252 9s; 586 8s; 249 7s; plus 10 8.5s)
Once again, Bird is on center stage, this time on D, with a clean shot of both his face and jersey, along with a shout out for being the '79-'80 Celtics' leading rebounder.
To his left is a hugely significant player from the 1970s and early-80s, and a Seattle Supersonics legend, Fred Brown. Brown spent his entire 13-year career (1971-84) with the Sonics, twice averaging over 20 points – including a career-high 23.1 in '75-'76, when he earned his lone All-Star selection. He also played more than a season's worth of playoff games (83), contributing to two Finals runs, and the NBA title in 1979.
When he retired in 1984, Brown was the Sonics' all-time leader in games played, points, field goals and made free throws. He still shares the marks for points in a regular season game with (58; with Russell Westbrook), points in a playoff game (45, with Ray Allen), and steals in a game (10, with Gus Williams). Unsurprisingly, his #32 was retired by retired by the franchise.
From an aesthetic standpoint, the dueling greens are a nice look and, given the arrangement of the panels, the sense that Brown and Bird are squaring off is quite cool.
At the other end there's a Ron Brewer – basically "a guy who was around at the time". After starting out with two decent seasons (14.5 points per game on 48% shooting) in Portland, each of his final six NBA seasons saw him suit for multiple teams, none of them particularly successful.
Prices for this one seem to vary quite a bit.
7. Junior Bridgeman / Larry Bird (Rebounding Leader) / Ron Brewer
PSA Pop: 721 (23 10s; 141 9s; 346 8s; 145 7s; plus six 8.5s)
Junior Bridgeman was the epitome of a rock solid pro. Usually in a sixth man role, he averaged 14.4 points and roughly four rebounds and three assists over his first nine NBA seasons – all with the Bucks. During the last two (1983 and 1984), Bridgeman teamed with Marques Johnson and Sidney Moncrief to get the Bucks to the conference finals.
Of course, for most people, how he got to Milwaukee is of greater interest. Eighteen days after being selected eighth overall in the 1975 draft by the Lakers, Bridgeman was packaged, along with Dave Meyers, Elmore Smith and Brian Winters, in the deal that sent one Kareem Abdul-Jabbar to Los Angeles.
Alongside the just-mentioned Bird "rebounding leader" panel, Bridgeman's creates an aesthetic effect similar to Marques Johnson's, though without quite the same colorful flourish.
Understandably, given the unspectacular nature of Bird's co-stars, this is the least-graded card here and, anecdotally, the one that pops up least frequently overall.
8. John Long / Magic Johnson / Ron Boone
PSA Pop: 1,381 (52 10s; 254 9s; 604 8s; 308 7s; plus four 8.5s)
First off, those 1970s Pistons jerseys are oddly fun, and just about any excuse to see them is welcome.
As for John Long? He was a solid scorer (15.5 points, on 47% shooting) for a decade's worth of mostly lackluster teams in Detroit and Indiana. He topped out in 1981-82, averaging a team-high 21.9 points alongside a pair of dynamic rookies: Kelly Tripucka and Isiah Thomas.
Long rejoined the Pistons in 1989, after he was waived by the Pacers. Timing proved to be everything, as Long was just in time for the franchise's first title run, joining Mo Cheeks and Dr. J as 1980 card-mates of Magic to have also swept Magic in the Finals.
Also, we glossed over Ron Boone earlier, in favor of Cheeks. It's worth nothing that, during the '70s, Boone was a genuine star, and very well may have deserved a spot in our ABA rookie card spotlights.
In eight ABA seasons, Boone averaged over 18 points and five rebounds, earned four All-Star selections, two All-ABA nods (one First) and a spot on 1997's ABA All-Time Team. He also helped lead the Utah Stars to two ABA Finals, in 1971 teaming with future Hall of Famer Zelmo Beatty and Donnie Freeman to win an ABA title.
Boone nearly had his own enduring connection to Magic. He began the 1979-80 season on the Lakers' roster. Unfortunately for Boone, he was dealt just six games into the season, and thus was not around to celebrate the first title of the Magic era the following spring.
A nice ungraded copy of this one can usually be had for $50 or less.
9. Scott May / Larry Bird (Scoring Leader) / Jack Sikma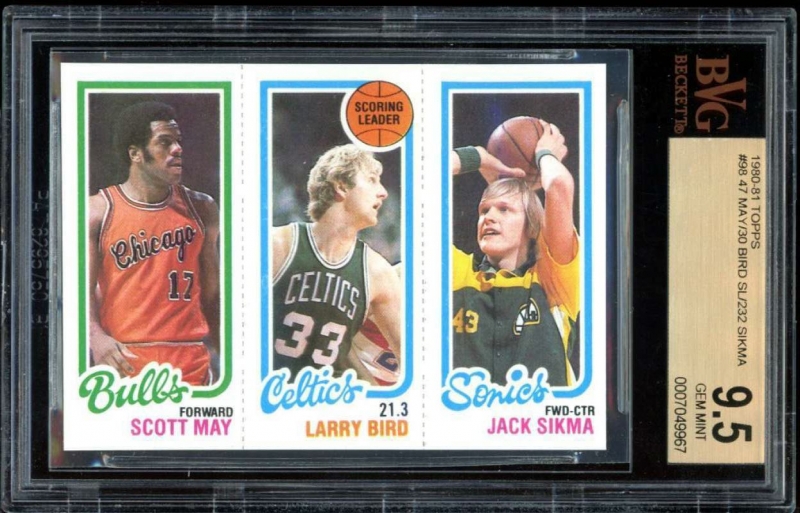 PSA Pop: 1,468 (86 10s; 342 9s; 592 8s; 278 7s; plus 16 8.5s)
Bringing up the rear, we've got two-thirds of the prettiest card of this bunch. Why the disparity?
For one, anyone looking for a non-RC Bird from this set that features another Hall of Famer will do well to seek out the Marques Johnson/Bird/Sikma. Despite its relative rarity, the other "Scoring Leader" Bird card from the set can be found in fairly high grades, with PSA 7 going for $40-$50, while 8s command around $150, and 9s hover around $300.
Swap out Johnson for Scott May and it loses just about all of its zip. Plus, there's not really any "hidden gem" or rarity premium associated with this. Only two other "other eight" cards have been graded as many times by PSA and, relatively speaking, this is the easiest to find in good condition. And, despite a population that's just over a seventh that of the Bird-Magic, there are more than half as many PSA 9s – and nearly four times as many PSA 10s – of this one in existence.
Despite the two Hall of Famers, it's plentiful and (mostly) affordable for those on a budget.