Sports Collectors
The Bullpen Card Shop In LA Robbed; More Than $1M In Product Stolen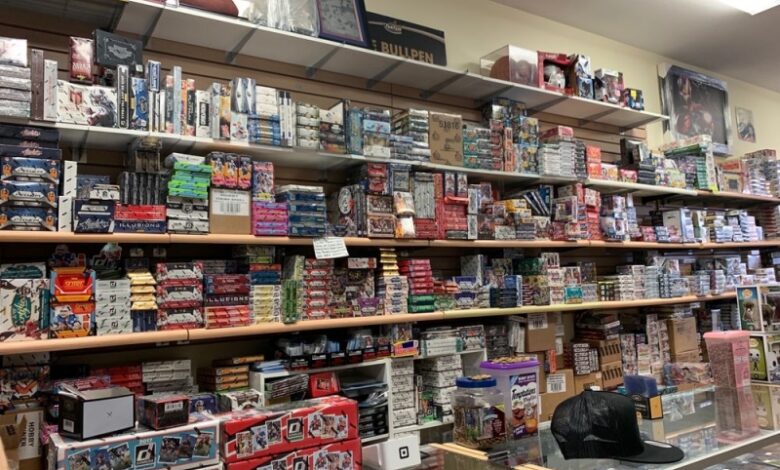 Reports of robberies at sports card shops are on the rise, and a theft early on the morning of Nov. 5 in Los Angeles was a costly one.
Two men entered The Bullpen shortly after 3 a.m. PDT and held up a longtime employee who was closing up the shop. The employee, "one of my best friends for 20 years," according to shop owner Mitch Guttenberg, was put into a chokehold, tased, bound with zip-ties and locked in a bathroom.
The men then smashed a display case and stole boxes of product whose worth was estimated at more than $1 million, Guttenberg said. Among the items stolen was a sealed box of 2003-2004 Upper Deck Exquisite basketball that Guttenberg estimated to be worth $193,000. The thieves also took a cash register, computers and laptops, plus a box of single cards that Guttenberg kept in his desk.
"It hurts. I feel like I was violated," Guttenberg, 50, said Friday evening from his shop. "It's not good. I am trying to keep everything on point."
The Bullpen, a longtime Southern California shop was the victim of a violent robbery early Friday morning.
Fortunately, the employee was not hurt. Guttenberg said the man was staying late at the shop because The Bullpen was conducting live box breaks on Instagram.
"He was hanging out and watching TV," Guttenberg said.
When the employee went outside for a cigarette break before closing the shop, he was accosted by the two men plus a third, who was believed to be a lookout man, police said.
The thieves went right to the case containing the box of 2003-2004 Upper Deck Exquisite basketball. The set is notable for its high-end cards, including those of NBA superstar LeBron James. The five-card box originally sold for $500 when it was issued, but the value of the box and individual cards has soared through the years.
A Rookie Patch Autograph of James was graded a 9 by Beckett Grading Services and sold for more than $2 million in August 2021. A BGS 9 of an autographed James Jersey Patch Parallel card fetched $5.2 million in April 2021, tying the record for the most expensive sports card ever sold.
Three boxes of Exquisite sold for $972,000 in a Goldin Auctions sale in 2003. A LeBron James/Michael Jordan Logoman 1/1 card graded 8.5 by Beckett Grading Services sold for more than $900,000 in February 2020.
Was there another James card in the box that was stolen from The Bullpen? It's hard to say. Either way, Guttenberg said he was devastated.
"Even the cops were shocked. I told one of them that box of Exquisite was worth like $190,000," Guttenberg said. "He couldn't breathe."
Other items stolen include:
Friday's theft is the latest in a spate of robberies involving sports card shops. A Utah store was burglarized Monday and in September, an armed robber ransacked a card shop in Altoona, Pennsylvania, stealing boxes of cards and some cash.
The Bullpen has been at its current site since 2015.
"If you fly into LAX we can see you," Guttenberg said.
Previously, the store was located in Venice Beach, where it opened in 2000.
The thieves who broke into The Bullpen on Nov. 5 had plenty of items to choose from. The 2,400-square-foot shop contained more than 20,000 boxes of cards, Guttenberg said.
"We probably have the most insane inventory in the country," he said.
But Guttenberg believes the thieves either knew what they were doing or were prepped by someone knowledgeable about card values.
"They were casing the joint," Guttenberg said. "They knew what they were looking for."
The shop has 17 security cameras, and Guttenberg said he asked other merchants on the street to check their surveillance cameras to see if the men were recorded.
One of the men was called "Alex" by his fellow thief, and the other man was referred to as "Chris."
"We have a lot of security but none of that matters when you get jumped closing up," the shop said on its Instagram account.
Mitch Guttenberg, owner of The Bullpen in Los Angeles.
Guttenberg said the shop and his products are fully insured, but losing the Exquisite box and other cards in his marquee case was troubling.
"That display case was my baby," Guttenberg said.
It is not the first time The Bullpen has been robbed, although it is the first time the Los Angeles location has been vandalized. The Venice Beach location was robbed in 2006.
"They ignored the cards and stole the cash register," Guttenberg said, adding that there was only $100 in the register.
"He ran by a case of 2003-04 Exquisite," Guttenberg said.
He said a reward will be offered for the latest theft, but the scars remain.
"I'm still just kind of stunned," Guttenberg said. "I just need to focus and move on."