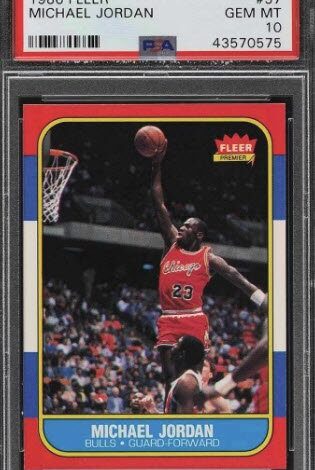 The price fluctuations for Michael Jordan rookies, especially the coveted Gem Mint graded versions, have been a wild ride over the last 16 months or so, offering a stark glimpse at what can happen when euphoria takes hold in a certain market.
The "Old" Days
On January 21, 2020, a PSA 10 Jordan rookie card sold for $39,600. It was a strong sale, but generally in line with numerous others that had taken place in the previous four months. High-grade Jordan rookies had a blue chip in the card market, rising slowly but steadily over the years.
Others came to market over the next several weeks as rumors of the coronavirus spread began to bring concern to North America. The anticipation and arrival of The Last Dance, chronicling the final year of the Jordan-led Bulls dynasty, sparked interest and auction/sale prices began to climb. A new high mark was achieved during the height of the documentary's run when one of them sold for over $51,000 through Robert Edward Auctions.
From that point forward, all bets were off.
The Crazy Days
There were numerous sales in the $70,000-$90,000 range as sports cards began to take off in earnest last summer and new buyers/investors began to enter the market. In late August, one example passed $100,000 in a Heritage Auctions sale.
But the action was still just beginning.
Over a two-week stretch in December and January, there were three reported sales of over $200,000. Other cards also exploded, leaving some to believe that the only direction for the hoops holy grail to go was up. On February 21, 2021, Goldin Auctions reported that two Jordan rookies had sold for $738,000 in the same auction. Some wondered whether $1 million would become the going rate.
They didn't have to wonder for long.
The huge spike in prices brought some of the 300-plus PSA 10 Jordan rookies into the market as collectors looked to cash in. Prices began a slight pull back. Still, there were several reported sales at between $588,000 and $645,000 in late winter.
Nowadays
As the pandemic's impact began to fade, prices continued to fall. By the end of March, most had dropped to under $500,000.
Earlier this month, a PSA 10 Jordan rookie sold for $270,000.
A PSA 10 was listed as sold for "only" $180,100 Tuesday night. It looked like the latest drop in a steady and steep price decline for what's generally considered the world's most popular basketball card. However, according to a post-auction notice from PWCC, that sale was declared "invalid" because of an eBay glitch.
PWCC says the 1986 Fleer MJ rookie auction this week, which resulted in a five month low for the card ($180,000) has been declared "invalid." pic.twitter.com/wBIhGHjeLJ

— Darren Rovell (@darrenrovell) June 18, 2021
If it had gone through, it would have been the first below $200,000 since August 24 of last year.
Sales and asking prices for lower grades have also dipped. Mint 9 examples that soared into the high five figures while 10s pushed past a half million have settled back, with two of the last three reported sales at under $20,000. PSA 8s have dropped to less than half of their highs of early 2021.
Whether Jordan rookie prices will continue to fall or head back upward is anyone's guess. Hopefully, there's honesty in at least a strong majority of the reported prices.
Those who paid what they did in and around the height of the mania several months ago are probably not pleased, but to those who've been around a while, a correction isn't surprising, even with new money in the market. Yet there are still fewer high end examples available than there are people who want one. and even at the new levels, the card's value is still way above where it was just a couple of years ago.
If you had one and held off selling when prices were at their zenith, you have a right to kick yourself, but if you're a collector who's in it for the long haul, a little more normalcy isn't a bad thing either.