Sports Collectors
Top Wander Franco Cards, Hottest eBay Auctions as Top Prospect Arrives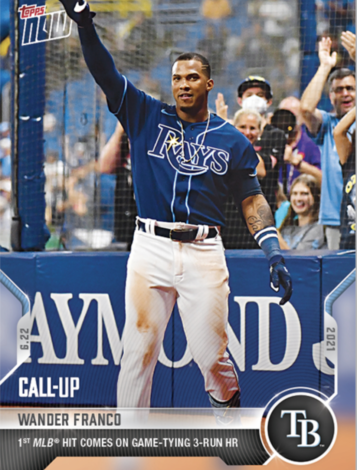 It was on every sports highlight show from coast to coast when Wander Franco pulled up to his first Major League Baseball game in a white Rolls Royce.
And just to make sure that the Hollywood script was perfect for the movie that the world is expecting to be made about his career some day, his first Major League hit was a game-tying, three-run home run that will no doubt turn Red Sox pitcher Eduardo Rodriguez into a trivia question.
Tampa Bay Rays fans went into a frenzy, everyone who follows baseball paid attention, and collectors rushed to their devices to check out the prices on his 2019 Bowman cards or to order his 2021 Topps Now card #402, which sold a record 61,305 copies during the 24-hour period in which it was available on Topps' website (if you missed it, you can grab one for just a few bucks on eBay).
He's #1
Franco started playing baseball at a young age. When most kids were playing tag and with hot wheels Franco was already concentrating on his future career.
He was noticed early on and got the attention of baseball scouts. Franco went on to sign with the Tampa Bay Rays at age 17 on July 2, 2017 and was immediately considered the top international prospect. Along with a high baseball IQ, he came with the compete skill package. He is a pure power hitter with a high average and high contact rate. He is also versatile, capable of playing multiple positions.
His minor league numbers are as impressive as any. Franco hit .332 during his stay in the minors and struck out only 7.9% of the time.
The 5-foot-10, 189 pound switch hitter comes to the Majors as The first No. 1 prospect to debut since Vladimir Guerrero Jr. on April 26, 2019. Being ranked number one does not always mean instant stardom, though. MLB began ranking prospects in 2004, and the list includes superstars, players who have had solid careers, and others that make you say, "really?"
The list includes obvious stars like Mike Trout, Alex Bregman, Corey Seager, Shohei Ohtani and Vladimir Guerrero Jr. Some have taken a while to live up to the hype, such as Byron Buxton. Some have been good players, like Delmon Young, Andrew Benintendi and Jurickson Profar. And does even remember when lefthanded pitcher Matt Moore was rated number one ahead of both Trout and Bryce Harper?
Franco, who is the first player born in 2001 to reach the Majors, may or may not become the player Trout, Ohtani and Guerrero have become, but the expectations are there.
Earliest Wander Franco Cards
While the hobby is waiting for Franco's first official Major League rookie cards, likely to arrive in 2022, his earliest issues have been hot sellers since his big league arrival on June 22.
Over 9,000 Franco cards have sold on eBay since Monday alone, with sales exceeding $800,000, according to company data. Many of those sales were for his 2019 Bowman issues.
Franco's Bowman Prospects BP100 and Bowman Prospects Chrome BPC100 cards are staples for the Franco collector because they have the "1st Bowman" logo in the top left hand corner, indicating that it is Franco's first card produced by Topps for the Bowman brand. PSA Gem Mint 10 versions of the Bowman paper version of the card are currently selling in the $150-$300 range with the Chrome version of the card selling in the $300-400 range. One eBay seller moved dozens of the latter between June 21 and 24 at $329.99 each. Another sold 40 at $350 each.
Not surprisingly, hobby boxes of 2019 Bowman have shot up to unprecedented levels.
Bowman Chrome Autographs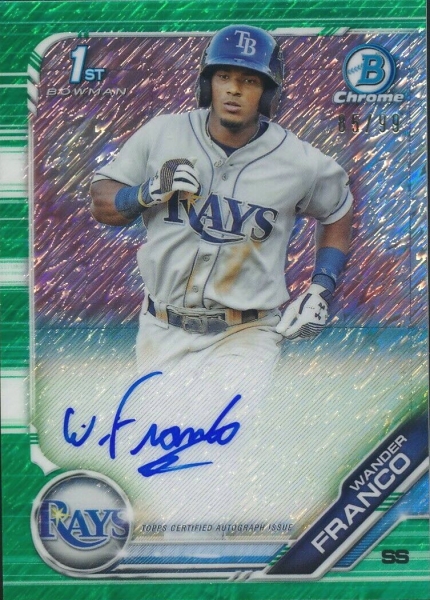 As is the case with most of today's top players, it's the Bowman Chrome Autograph cards that are the most desirable non-rookie cards. Franco's 2019 Bowman Chrome autos come with over a dozen parallels, numbered from 1/1 to 499. A BGS 9.5/10 Orange Refractor numbered to 25 sold Wednesday for a Buy it Now price of $50,000. A Purple Refractor numbered to 250 graded PSA 10 went for $7,839 on the same day.
You can also find Franco autographs in other products, like the Bowman Chrome Mega Boxes that were a Target exclusive. There's also an unsigned MegaBox Refractor and a few corresponding parallels.
While Franco's first Bowman cards may be driving the baseline demand for his pre-rookie cards, they are certainly not the only ones out there. Nor are they Franco's first cards.
Panini and Leaf Franco Cards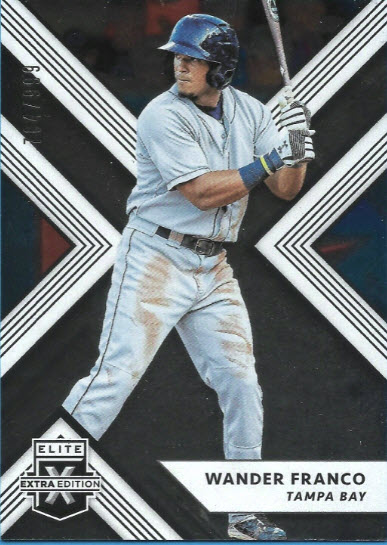 In 2018, Panini included Franco in its Elite Extra Edition series as card #64. Although the card is serial numbered to 999 and the card is a premium-level card printed on foil, the logos on the uniform are removed, which some collectors don't mind but others don't like. The autographed parallels are not serial numbered, but they do include a statement of authenticity.
The Elite Extra Edition Future Threads Silhouette cards have a large swatch and a signature, and are serial-numbered to numbers under 100. There are purple and patch versions, both serial numbered to 25, that carry fairly modest values.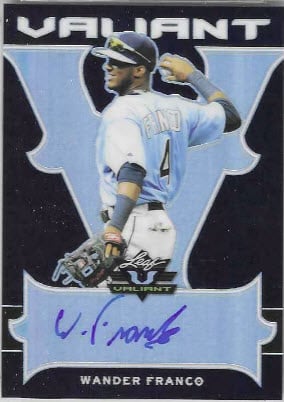 Leaf also produced Wander Franco baseball cards in 2018. These, too, don't carry MLB licensing. Leaf Metal Draft features a Franco card in more limited quantities. There are 16 versions of parallels in the set, with 15 of them numbered to 25 or less.
2018 Leaf Flash Baseball also includes Wander Franco autographs. He has a #BA-WF1 autographed card, as well as a Flash of Brilliance autograph and a number of parallels numbered to 50 or lower, and one of one printing plates.
Leaf Ultimate Draft from 2018 is another autograph set that includes Franco. This set has drawn attention for using the popular 1990 Leaf Baseball design.
Franco also has signed cards in the Leaf Valient and Trinity sets.
Half-Million Dollar Card
The most expensive Franco card currently available is a 2019 Bowman Draft Black #BD93 1/1. The only card of its kind received a grading of PSA 8, which is less relevant in this case because it is a one of one card. It is currently on eBay with a Buy it Now price of $500,000.
The regular version of the 2019 Bowman Draft #BD93 card has less demand than the Bowman Prospects card mainly because the Bowman Prospects card has the 1st Bowman logo. The Bowman Draft paper and chrome cards are priced about 25 per cent less than their Bowman Prospects counterparts.
Some of the other popular Wander Franco cards that are out there include 2019 Bowman's Best, 2019 Bowman Sterling , 2019 Topps Heritage Minor League #1, 2019 Topps Pro Debut #50 and 2019 Donruss Optic #7. Franco can also be found in the 2018 Grandstand Princeton Rays set from his time in the Appalachian League.
You can check out the most watched Wander Franco auctions on eBay anytime via the live list below.